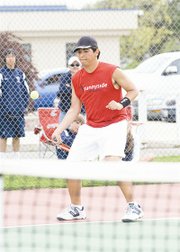 With the Big Nine District playoffs just around the corner, Sunnyside High School Tennis Coach David Downing couldn't be more pleased with his girls squad.
It was all about girl power on the tennis courts yesterday against Chiawana, with Sunnyside earning its first victory of the season, 4-3.
Downing made a few changes on the courts, stating he needed to do so in preparation for Districts.
Those changes paid off, giving Sunnyside's new No. 3 duo of Lydia Robert and Perla Alcantar the edge over Emily Vaughn and Abigail Limbaugh of Chiawana. The Lady Grizzlies earned their first victory as a pair, 6-3, 6-3.
Continuing with the momentum on the Sunnyside side of the nets was No. 1 girls doubles teammates Emily Meyer and Jessie Robert. The duo defeated Riverhawks Josefina Velasquez and Roxanna Stapleton 6-1, 6-1.
Another victory in doubles play was secured by teammates Jill Spini and Christine Kim, who outmatched Chiawana's Lupe Salgado and Echo Kane 6-2, 6-1.
In singles play, Sonia Romero of Sunnyside battled Kaytlin Nelson. The No. 3 players fought through the first set and "(Romero) never gave up to edge out her opponent in a nail-biting match," said Downing. Romero prevailed 7-6 (7-3) in the first set and battled through the second set to win by a 7-5 decision.
"This was the match of the night," Downing said.
The other three Sunnyside singles players didn't, however, overwhelm the competition.
Amanda Villarreal succumbed by identical 6-0, 6-0 scores to Chiawana's Devyn Johnson in No. 1 singles play, Riverhawk Jessica Moss handed Kassie Ortega a 6-0, 6-1 defeat in No. 2 action, and in No. 3 singles play Ashley Marquez of Sunnyside fell 6-3, 6-2 to Ashley Good of Chiawana.
On the boys side of the courts two doubles teams were able to secure wins.
No. 2 boys doubles teammates Uriel Osuna and Jaime Garcia edged Nick Martin and Jared Castanzo of Chiawana 6-2, 6-1.
A second win in No. 3 doubles play for Sunnyside was earned by Ricardo Sanchez and partner Jonathan Gutierrez. The pair secured a 6-2, 6-3 victory over Riverhawks Edgar Farias and Alvaro Figueroa.
"New partnerships for the boys showed some growing pains with George Noyola and new partner Jacob Martin struggling in a loss," said Downing.
The No. 1 Sunnyside duo fell 6-4 after a first set battle with Howard Durrant and Eric Garcia. The second set was lost 6-2 by the Grizzlies.
Grizzly No. 1 singles player Javier Aguilar also struggled on the courts. He was recently moved to the position and fell 6-2, 6-0 to Chiawana's Jason Toyoda.
Javan Olin of the Riverhawks handed Grizzly No. 2 singles player Scott Laverman a loss after battling through the first set. The final scores of the match were 6-4, 6-1.
In No. 3 and No. 4 singles action, things didn't go Sunnyside's way either. Adrian Soberanes and Ali Gonzalez lost their matches 6-1, 6-0 and 6-1, 6-1, respectively to Jim Sturtevant and Ricky Rada.
"I am impressed with the overall improvement the team has made with a focus on the remainder of the season," said Downing.
The Sunnyside tennis squads tomorrow (Saturday) will host Richland and will end the regular season next Tuesday, when Grandview visits the Grizzly courts.