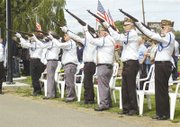 Next Thursday, May 12, will be a big day for Sunnyside VFW Post 3482 as it will mark its 75th anniversary.
"It's pretty important," Post Commander Bill Ingram said. "It's veterans serving veterans and we're pretty proud to be able to serve our veterans in the Lower Valley."
He's not the only one proud of the diamond jubilee anniversary, as national VFW Commander Richard L. Eubank weighed in as well.
"This is a very significant milestone for a VFW post," Eubank said in announcing the presentation of an award to the Sunnyside post. "This Diamond Jubilee Award recognizes dedication, determination, hard work and a lot of patriotism."
Eubank added, "It recognizes 75 years of serving the needs of local veterans and their families; and 75 years of service to the local community, and 75 years of contributing to the strength, power and influence of our national organization."
Founded in 1899 and chartered by Congress in 1936, the VFW is the nation's largest organization of war veterans and is one of its oldest veterans organizations.
The Sunnyside post, one of 7,500 worldwide, began the same year, 1936, that Congress issued a charter for the national VFW organization.
"It gives them a place to go and talk, whatever they need," says Ingram, a Vietnam veteran. "We have service officers to help the veterans and anytime they wish to come down and talk it's open."
But the Sunnyside VFW is about much more than a building or club. It's a community organization and that, says Ingram, is the key to the Sunnyside post's survival all these years.
Ingram calls it "comraderie with the people in the community and in the VFW."
He adds, "We do a lot of community service."
That includes participating tomorrow, Saturday, in a Gold Star mother's program in Grandview at Legion Park.
Next weekend, Sunnyside VFW post members will be at it again, performing a flag-raising ceremony to help open the Relay for Life in Grandview, then a few hours later heading to Prosser for a military funeral.
"Staying busy is a lot of it," Ingram says of his post's longevity. That and never forgetting its purpose: "To be able to serve veterans is our major focus," he says.
More like this story