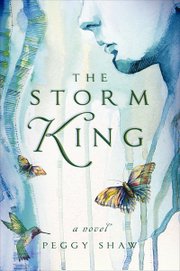 ELLENSBURG - Peggy Shaw, a resident of Yakima, will hold a book signing event at Jerrol's Book & Office in Ellensburg on Saturday, May 14.
Jerrol's Book & Office Supply Company, located at 111 E. University Way in Ellensburg, will host the book signing event from 1 to 4 p.m.
Shaw's novel, The Storm King, was released by Tate Publishing in March and is available for purchase in paperback or through Kindle.
The Storm King tells the story of Jenna Niasmith, a woman who is satisfied with her upscale lifestyle in Seattle and is making great strides in her position as head interior designer at Smith and Williams.
She has been a longtime favorite of the boss and returned to the company after a five-year marriage that turned sour. But her hopes for the corner office are dashed when the boss's son, Dirk Williams, returns from a failed stint at college to take her place running the office.
Suddenly the position she worked so hard to achieve is crumbling beneath her.
Upset with Dirk's manipulation of the office women, Jenna plots to thwart him at his own game. In the midst of Jenna's work struggles, she meets a mysterious stranger, who shares stories from his travels as an elemental. The Storm King enchants Jenna with his luminescent tales, and she embraces the new friends that enter her life.
More like this story