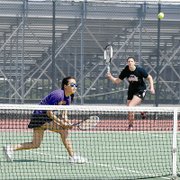 Between the boys and girls tennis squads, only one Sunnyside pair was able to win a match against Richland this past Saturday.
The No. 2 girls doubles duo of Jill Spini and Christine Kim secured a win after an unfortunate Bomber injury. The Lady Grizzlies were battling Ashley Hapton and Eva Klos of Richland. The Richland pair earned a 6-4 win in the first set, but Spini and Kim fought back to win the second set 6-4.
"(They) were on their way to a three-set win...it was an intense match from the beginning," said Sunnyside Coach David Downing.
The final set was played through one game when the injury occurred, although Downing didn't say which Bomber was injured.
He was pleased his team showed good sportsmanship in wishing the injured player a speedy recovery.
The injury resulted in a default, giving Spini and Kim the victory.
The Richland squads, however, did not allow the injury to deter them from securing victories in every other match.
In girls singles play, Lizzy Muntean defeated Sunnyside's Sonia Romero 6-0, 6-1 in No. 1 action. Lady Grizzly Ashley Marquez fell 6-1, 6-0 to Bomber Melody Qiu 6-1, 6-0 in No. 2 play. Both Adilene Torres and Beks Villaneda of Sunnyside were defeated by identical 6-0, 6-0 scores by Tori Kennedy and Stephanie Young in No. 3 and No. 4 singles play, respectively.
Sunnyside No. 1 doubles teammates Emily Meyer and Jessie Robert were handed a 6-2, 6-3 defeat by Hailey Thompson and Maddie Quick, and Lady Grizzly No. 3 doubles teammates Lydia Robert and Perla Alcantar fel 6-0, 6-0 to Bombers Rachael Porter and Anna Lipton.
The Sunnyside boys, too, had a rough day.
However, Downing was pleased the No. 3 doubles match went to three sets.
That match was between Grizzlies Ricardo Sanchez and Jonathan Gutierrez and Richland's Brian Burk and Derek Hettinger. The Sunnyside duo won the first set 6-2, but fell 6-0, 6-3 in the second and third sets, respectively.
Sunnyside's No. 1 singles player Javier Aguilar, No. 3 singles player Zach Halma and No. 4 singles player Adrian Soberanes all succumbed 6-0, 6-0 to their Richland opponents.
In No. 2 singles action, Grizzly Scott Laverman fell 6-0, 6-1 to Bomber Simeon Yang.
George Noyola and teammate Jacob Martin of Sunnyside fell 6-2, 6-0 to Richland's Nikhil Malhan in No. 1 doubles action, and Bombers Josh Luo and Peter McGuikin defeated Sunnyside's Uriel Osuna and Jaime Garcia 6-0, 6-1 in No. 2 doubles play.
Sunnyside will take to the courts again tomorrow (Tuesday) when Grandview visits the Grizzlies.
&nbsp