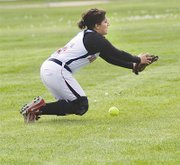 The Sunnyside Lady Grizzly softball team closed out its 2011 season with a pair of losses this past Friday to visiting West Valley.
In the opener, Sunnyside lost 12-1 in seven innings. The Rams gradually pulled away in game one after the Lady Grizzlies plated a run in the home half of the first inning.
Maria Olivera accounted for the lone run when she singled, stole second and later came around to score on a passed ball. Olivera was 2-for-2 in game one.
Marquisa Sustaita pitched game one for Sunnyside.
In the nightcap, West Valley wasted no time in deciding the outcome with a 10-run outburst in the first inning. The Rams went on to prevail 16-1 in five innings.
Sunnyside's run came with two outs in the third inning. Amber Cornwell started the rally with a single, followed by a base hit by Olivera. That brought Rosa Garza to the plate, who delivered a clutch, RBI single.
Garza and Cornwell shared pitching duties for Sunnyside in game two.
Olivera, a senior, went 3-for-5 at the plate in both games combined to raise her season batting average above .500.
The losses ended Sunnyside's season at 0-20. Despite missing the win column, Coach Ralph Mendoza said his team showed progress.
"The girls came a long way, they started understanding the game and communicating with each other," Mendoza said. "There was a lot of progress and growth. That's the positive we'll take from this season."