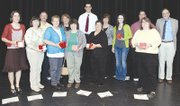 The annual Golden Apple awards were given out last week by the Sunnyside School District. A total of 20 of the annual awards were presented.
Getting a Golden Apple for community leadership was Nate Bridges. Bridges is the chairman of Sunnyside's Promise and he has been a tireless advocate for the well-being of the community's youth.
Sunnyside Schools Superintendent Dr. Rick Cole said Bridges has led the organization that was on the verge of collapse just a year ago and revitalized it into an organization that actively serves the Sunnyside community by providing effective prevention and intervention strategies to keep Sunnyside kids out of trouble.
Eric Sylling received a Golden Apple for recognition of his service. Sylling is the director of two of the Sunnyside School District's most important district improvement initiatives, Summit and MERIT.
"When our district was selected for these two grants, we recognized that the scope and importance of the work that was to follow would require a skilled instructional leader to coordinate and guide the work," Cole said.
Cole said because of Sylling's work, the district is seeing marked academic improvements within each of Sunnyside's schools.
The district leadership award went to Dan Thomas, who is the head of the Sunnyside School District's teachers union.
"Dan has an incredible amount of responsibility to advocate for every single one of our district's teachers," Cole said.
The administrator of the year Golden Apple went to Dr. Chuck Salina, who is the principal at Sunnyside High School.
Cole said he has been impressed with the work of Salina and noted that substantial academic and behavioral improvements have been seen.
"There is no doubt that the advances Sunnyside High School is taking toward developing a system of sustained improvement is largely due to Dr. Salina's superb leadership and vast knowledge of effective educational strategies and practices," Cole added.
Aimee Souders and Angie Sotelo were named volunteers of the year.
Support staff of the year honors were given to Linda Williams at Sunnyside High School and Cherie Morrow in transportation.
Williams has gone above and beyond to keep the high school clean during this year's construction process. Morrow meets all problems in the transportation department in a cool, professional way. When the district is short on bus drivers, Morrow has left her desk and gone out to drive a route, Cole said.
Abelia Ramirez was given an Apple for nutrition services. Alice Aguirre at Sunnyside High School was named secretary of the year, as was Janelle Hull at the district administration office.
Lisa Daniel at Sierra Vista Middle School, Denese Guillen at Sun Valley Elementary School and Gracie Maltos at Washington Elementary School were named para educators of the year.
Specialist of the year winners included Marge Van Tress at Washington Elementary School and Mark Moore at Outlook Elementary School.
Doris Matson at Chief Kamiakin Elementary School and Billie Parke at Pioneer Elementary School were named elementary teachers of the year. Tyler Miller at Harrison Middle School and Josh Eidson at Sunnyside High School were named secondary teachers of the year.