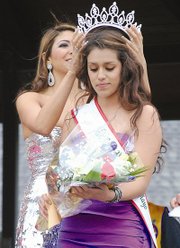 Despite a slight rain on Friday night, pageant contestants sang, danced and cheered their way through the Miss American Cinco de Mayo competition, where Betsy Robledo of Toppenish was crowned the first ever Miss American Cinco de Mayo.
This new pageant was held at Centennial Square following the kick off of Cinco de Mayo festivities. The Miss American Cinco de Mayo Pageant is the creation of various Sunnyside Community Hospital employees, all of whom work at Sunnyside Ears, Nose and Throat.
Six contestants from across the Lower Yakima Valley competed in the competition for a $250 scholarship courtesy of Sunnyside Community Hospital and the opportunity to represent the Cinco de Mayo festivities over the weekend.
The contestants held a personal interview with judges early last week. The interview verified information on the six contestants' pageant applications, covered their goals and current activities and how they'd represent the community at the Cinco de Mayo fest. The interview was worth 50 percent of the contestants' total score.
At Centennial Square, an enthusiastic audience watched the free pageant as the contestants completed the competition with the talent segment, worth 35 points, and the evening gown portion, worth 15 points.
Three contestants showed off their vocal talent for judges, including Angelita Rodriguez of Mabton and Samantha Arola of Sunnyside.
But it was Robledo's rendition of "I Will Survive" by Selena that helped propel the 18-year-old Toppenish teen to victory.
Diana O'Campo of Grandview performed a cheer routine for her talent, while Esmeralda Sanchez, also of Grandview, danced a modern and self-choreographed dance.
Yaneli Martinez of Toppenish delivered a personal speech for judges as her talent. The 17-year-old discussed the importance of pursuing education and overcoming challenges in the Latino community.
O'Campo won second princess honors at the competition, while Martinez was named first princess.