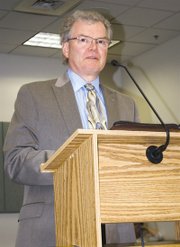 The good news, according to John Rothenbueler of Alegria & Company, is the city of Sunnyside will not have to pay more than $52,000 in penalties to the IRS for late payroll tax payments from 2010.
Last night he told the Sunnyside City Council he has been working with Deputy City Manager and Chief Financial Officer Byron Olson to resolve tax payment problems that occurred from 2006 to 2010.
Rothenbueler said many of the issues stemmed from inaccurate data input into the city's EDEN accounting system, as well as a lack of training for those responsible for payroll during the years in question.
He said staffing turnover contributed significantly to the late payroll tax payments made to the IRS, as well.
Rothenbueler was able to intervene on the city's behalf, talking with agents from the IRS and Social Security Administration to work out solutions.
Although the IRS is willing to abate the penalties incurred for 2010, other penalties are still being assessed.
Rothenbueler said he was unaware the city in 2008 did not file a necessary form required by the IRS, so the agency is not willing to forgive all penalties.
He said the process of working with the IRS was also hindered because, while he was trying to get past penalties abated, the city incurred more penalties.
The city missed deadlines for payroll tax payments this year. "It was only by a day or two," Rothenbueler said.
"They made a liar of me," he said, noting he sent out an email saying the past issues of late payments had been resolved.
Rothenbueler said Olson investigated the reason the city was still missing deadlines and found the electronic transfers were being made. However, they were being submitted after the Eastern time deadline, which is 5 p.m.
Olson has corrected the issue and set in place a system that ensures payments to the IRS will be made before 2 p.m. Pacific time on the date payroll taxes are due.
He said he has put in place a notification system for himself and three other employees, including Anna Bullock.
Bullock is in charge of human resources and she is backed up by Evie Jaquish, who will also receive a notification alerting her to ensure payroll tax payments are sent in a timely manner.
Olson said Bullock was more familiar with a smaller payroll system, but the city employs more than 100 staff members. That places the city on a tighter deadline than Bullock was accustomed to.
He said the new system will also serve to assure future staff members will not find themselves in a similar situation.
Rothenbueler told council there is further good news.
He said the Social Security Administration assured him corrected W-2 forms for the years in question will be accepted.
The corrected forms will allow retirees to receive Social Security benefits in line with what they were expecting.
"I believe the system in place will also work through another transition," said Rothenbueler.
He said procedures are in place to prevent problems in the future.
"There's never a guarantee, and the council must always pay attention when there's employee turnover," said Rothenbueler.
Olson said the city is now ready to move forward "...rather than digging in the past and finding what I'll call 'bad stuff'."