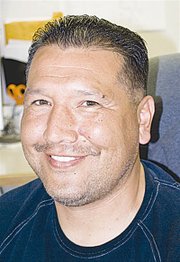 He holds the primary responsibility of dispatching trucks to various job sites for contractors, and Ezra Yanez is someone on whom his co-workers have learned they can depend.
He started working for Sunnyside's Truss Systems about 10 years ago as a truck driver, and after about four years, Yanez was tapped to work in the office.
"I enjoy everything about my job," he said.
Yanez's duties of dispatching trucks involves calling building contractors to ascertain when deliveries are needed on a job site. Following up on that, he will coordinate deliveries with the truck drivers.
Yanez also serves as an interpretor, designs truss systems and serves as a receptionist for the Sunnyside company.
"Every skill I have acquired, with the exception of interpreting, has been through on-the-job training," he said.
Yanez believes in hard work and quality. He said the transition from truck driver to dispatcher was one he relished. He was seeking new opportunities with Truss Systems when management approached him to fill the position he now has.
A co-worker pointed out that Yanez has also obtained the title of assistant manager, but Yanez quickly said he doesn't claim the title because "I just try to be the best employee I can be."
Designing trusses for builders, he said, is a skill he utilizes when he is not otherwise busy with his other responsibilities.
Answering phones, said Yanez, is a responsibility he doesn't own on his own. "I have back-up," he said.
Organization, Yanez admitted, is key to everything he does at Truss Systems.
"There is some stress associated with the job...that would be making everyone, especially the contractors, happy," he said.
Meeting deadlines and ensuring the quality of the work completed is a top priority.
To ensure quality, Yanez will sometimes confirm measurements on trusses ready for shipment.
"But, this company has provided me many opportunities and I enjoy everything about what I do here," he said.