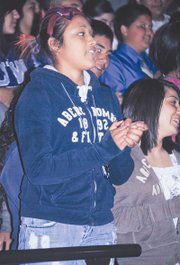 Students at Harrison Middle School started their Measurements of Student Progress (MSP) testing today, but before they got to work, the middle school staff took a few minutes to praise the students' progress this year and encourage them to continue their hard work.
Students also received a very special message from Kristina Guerrero, a Sunnyside native who currently hosts E! News on the E! Entertainment Channel.
Harrison Middle School Principal Janie Hernandez introduced the message by explaining that Guerrero came from an impoverished background but she had a dream of being on television. When she enrolled at the University of Southern California, Hernandez said it was the first time Guerrero had a bed of her own.
Guerrero, in the videotaped message, encouraged the students to dream big, reminding them that she once sat where they are - she walked the same hallways, knew some of the same staff and graduated from Sunnyside High School.
Guerrero let them know she was a Grizzly and told them to believe in themselves.
It was the same message the HMS staff gave the students as they pumped the students up for testing.