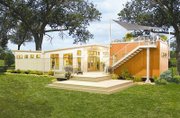 Based in Tennessee but with a market reach that stretches to the Yakima Vallley, Clayton Homes says it is trying to make green homes affordable.
The terms "green living" and "affordable" haven't always been synonymous. But, Clayton Homes says it is bridging that gap by offering affordable homes with "green" features.
"We're learning as we go when it comes to building 'green.' There are standards set in place for how environment-friendly a home can be, but there is no instruction booklet on how to build the perfect 'green' home," said Kevin Clayton, president and CEO of Clayton Homes.
"The practices we learn in building these homes are continuously being integrated into our core products," Clayton added.
The nearest Clayton Homes outlet is in Union Gap and the Tri-Cities, offering homes with "green" features starting at $30,000 to $40,000.
But further afield at a Clayton outlet in Bend, Ore., the company is touting what it calls an "i House."
A purpose-built "green" home with stylish design, cutting-edge color combinations and modern furnishings, the i-House is so efficient that it costs as little as a dollar a day to heat and cool the homes.
That's according to Brandon O'Connor, i House product manager. He says the i House moniker came about because the first models of the futuristic-looking homes resembled a small letter "i."
In a phone interview with the Daily Sun News, he said i Homes can be outfitted with solar panels and include a focus on good indoor air quality, energy and water conservation, as well as a tight seal all the way around.
"It's a holistic approach," O'Connor says. "It's not just slapping solar panels on the roof and calling it done."
Otherwise, he adds, "it's like working out and then going to McDonald's."
He says Clayton's home building process is "second to none," with the company using in-house staff in home construction preparation and assembly. O'Connor says that means there's no need for sub-contractors and that helps keep the prices down.
Efficiency doesn't just apply to the finished product.
The home construction process is so fine-tuned that O'Connor says a Clayton construction site might use as little as two trash cans for debris when the job is done.
"You don't need the big dumpsters," he said. "It's a testament to our guys who design the homes."
Clayton sells about 25,000 homes each year, ranging in price from $30,000 or $40,000 all the way up to $300,000 or $400,000.
Versatility of price and design are Clayton hallmarks, says O'Connor.
"Most of our homes are in the $150,000 range and lower," he says. "We literally build all kinds of different plans, from completely traditional designs up to super contemporary homes."