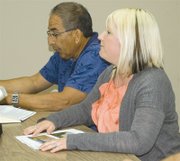 GRANDVIEW - Lighted walking trails and healthier food choices are part of a Yakima Health District program that might take root in the city of Grandview
Officials from the district spoke to the Grandview City Council last night, Tuesday, and described what it calls the "Healthy Communities" and "ACHIEVE" programs.
Both efforts focus on encouraging healthy lifestyles and the health district has received state grant funding to get the process rolling.
Now the district is going city-to-city in Yakima County to offer its help towards additional grant funding for healthier communities.
In Grandview, for example, that could include a sidewalk leading up to the new community center.
Or it might mean lighting the pathway in town and planting shade trees and placing benches to encourage more of the public to use the path.
Jessica Brown of the Yakima Health District said one of the first steps, if council approves of the joint venture, would be a health assessment of Grandview.
She says volunteers would be needed to help complete the assessment, which the district could use to help Grandview obtain grants for healthy lifestyle initiatives.
Time is of the essence since the deadline to submit grant applications is Aug. 31.
Brown said there is a trend towards more grants that encourage healthy activity, such as exercise and what she called "healthy corner stores." She added programs are available to help communities discourage smoking, such as "smoke-free parks."
The Grandview City Council is expected to take action on the proposal at its next meeting on Tuesday, May 24.
If approved, Grandview's participation in the district's healthy initiative would be to have a representative on a county-wide coordinating committee.
The city would also be asked to assist in completing a health assessment of the Grandview community
Further, the city would be asked to bring its "assets, expertise and strengths" to the table in improving the health of the community.
The district will not only help the city with the health assessment and grant writing, but also help Grandview develop a plan to make the city a "healthier place to live, work and play."
If council approves participation in the health initiative, the Yakima Health District will use some of its grant funds to fly a city employee to Baltimore, MD for training on using data from the health assessment.