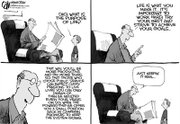 That's not fair!"
It is a term anybody who knows a toddler or young child, or teenager, for that matter, knows well.
We also all know the answer.
"Life isn't fair."
That is a sentence that can be uttered in so many different ways - with anger or sadness, or regret.
But it is a fact we all, eventually, come to accept. Life simply isn't fair.
Some people work hard for very little all their lives, while others do very little and get so much for it.
Some people experience tragedy or calamity routinely, while others live in a proverbial Pleasantville.
Then there is the fact that some people die young, just on the cusp of starting their life, while others might exist a hundred years and never really live a day.
Life isn't fair.
But May's character trait for the Sunnyside Has Character Initiative is fairness and I realized that the most important quality in fairness is that it means something different to everyone.
For most people, fair is getting the same thing as other people. For example, I got a car when I was a teenager. Well more accurately, I got a piece of junk with iffy brakes and no heat that was given to me by my parents until necessity required an upgrade (the upgrade was a two door Nissan that hated me and broke down when it went up hills).
Now, years later, certain extended family members who used to live with my parents thought they needed a car, too, and it was only fair that my parents buy it for them.
That never seemed fair to me. You see, my parents raised their five children, so why should they have to start paying for more?
Fair is relative.
So to me, fair is being able to see and understand another person's side of the story. Life cannot and never will be 100 percent fair to everybody. The only thing we can control is how we react to things we deem unfair. Do we get angry, upset? Feel cheated and wronged?
Or do we simply accept that fairness is relative?
I accept it.
That reminds me of The Serenity Prayer by Reinhold Niebuhr often recited by recovering alcoholics. I don't mean to get all philosophical on my readers, but there is so much truth in the prayer.
"God grant me the serenity to accept the things I cannot change; courage to change the things I can; and wisdom to know the difference."