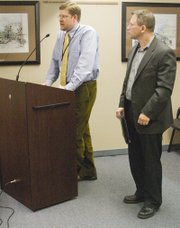 YAKIMA - The number of homeless people in Yakima County fell to 887 people this year, down from a high of 1,314 in 2009. The new count is the lowest number of homeless people in Yakima County in the past six years.
The number of homeless people in Yakima County declined 25 percent since 2010.
"It's a remarkable decrease, it's very encouraging," Tim Sullivan, housing and homeless programs manager for Yakima County, told the Board of Yakima County Commissioners yesterday (Tuesday).
The Homeless Network of Yakima County has a goal to reduce the number of homeless people in the county by 50 percent by 2014, and the organization feels significant progress is being made to reach that goal.
"We're seeing less and less people on the street," Sullivan added.
He told the commissioners that the number of homeless in Yakima County has been moving downward the past couple of years, but he attributes this year's decrease to nearly $1 million in federal stimulus money provided through the Department of Housing and Urban Development's Homeless Prevention and Rapid Re-housing Program.
The program provides short-term assistance to prevent people in housing from becoming homeless or rapidly re-house people who are currently homeless.
Of the 887 people considered homeless in Yakima County, Sullivan said 827 of them were sheltered, with just 60 individuals being unsheltered.
Unsheltered homeless live in places not fit for human habitation. Sheltered homeless live in emergency shelters or transitional housing.
"We're doing a good job of sheltering families," Sullivan said.
All the news isn't good, Sullivan said. Of the 887 homeless people counted in Yakima County in this year's survey, 241 of them are under the age of 18, an increase of approximately 3 percent. Another increase was in homeless people between the ages of 56 and 64, which increased almost 8 percent.
The number of homeless people in the Lower Yakima Valley also declined. In 2010 there were 465 people who were listed as homeless. This year that number dropped to 306.
In Sunnyside, the number of homeless people dropped 50 percent. In 2010, 197 individuals were counted as homeless. When the most recent count was done this past January, the number was down to 98.
The top source of income of Yakima County's homeless was social security benefits, an 11 percent increase from last year. Homeless numbers reporting no income at all declined by 42 percent.
Another interesting note is that 315 of the 887 homeless people in the county had a high school diploma/GED or higher education. This number hints at how hard the economy has been hit.
Sullivan said the numbers are promising and significant progress has been made, however, much work remains.