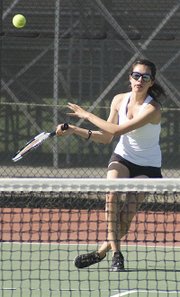 The Sunnyside boys and girls tennis squads hosted Grandview yesterday for a non-league match.
The day marked the second successful outing of the season for the Lady Grizzlies, 4-3 winners, but the Grandview boys prevailed 4-3 over Sunnyside's boys.
"Amanda Villarreal at No. 1 singles led the charge to a girls team victory with a 6-3, 6-3 win," said Sunnyside Coach David Downing.
Villarreal defeated Lady 'Hound Jessica Hernandez.
In No. 4 girls singles play the victor in yesterday's match was Sunnyside's Ashley Marquez, who secured a swift 6-2, 6-0 win.
Also winning on the girls side of the courts were Sunnyside's No. 1 and No. 2 girls doubles teams.
Emily Meyer and Jessie Robert dispatched the ball over the net to secure a 6-1, 6-2 victory over Grandview's Mayra Escareno and Casandra Hudon in No. 1 doubles action.
Sunnyside No. 2 teammates Jill Spini and Christine Kim defeated Lady 'Hounds Sadie Wyatt and Victoria Chambers, 6-3, 6-2.
The Lady 'Hounds prevailed in No. 2 and No. 3 singles action, as well as No. 3 doubles play.
Hannah Grow of Grandview battled through three sets with Sunnyside's Kassie Ortega in No. 2 singles play. The first set went Grow's way, 6-4. Ortega picked up a 7-5 victory in the second set, but Grow bounced back to win the final set 6-3.
Lady Greyhound No. 3 girls singles player Ana Herrera handed Sonia Romero of the Lady Grizzlies a 6-4, 6-1 loss, and in No. 3 doubles action, Gabby Avalos and teammate Karissa Carpenter were the victors over Sunnyside's Lydia Robert and Perla Alcantar, 6-4, 6-2.
For the Sunnyside boys, a win was secured in No. 4 singles action, as well as No. 2 and No. 3 doubles play.
Adrian Soberanes of Sunnyside handed Grandview's Tim Palacios a 6-3, 6-1 defeat in No. 4 singles action.
Sunnyside's No. 2 duo of Uriel Osuna and Jaime Garcia defeated Ivan Campuzano and Marcus Morales of Grandview by identical 6-2 scores.
The final victory for the Grizzlies was earned by teammates Ricardo Sanchez and Jonathan Gutierrez. The pair defeated the Greyhounds' No. 3 duo of Abel Pasillas and Brock Jetke 6-4, 6-3.
The Greyhounds fought back and secured the 4-3 team victory with three wins in singles play and a No. 1 doubles team victory.
Angel Lopez and partner Stevan Ramirez defeated the Sunnyside duo of George Noyola and Jacob Martin 6-4, 6-1 in No. 1 doubles action.
Grandview's Ryan Rodriguez battled Grizzly Javier Aguilar in No. 1 singles play to secure a 6-3, 6-4 win in No. 1 singles action.
No. 2 Greyhounds' singles player Ezequiel Zamora handed Grizzly Scott Laverman a 6-0, 6-0 defeat, and No. 3 singles player Stevan Ramirez defeated Zach Halma of Sunnyside 6-1, 6-1.
The match ended the regular season for both the Grandview and Sunnyside teams. Both teams begin District playoffs Saturday. Grandview will play in Ephrata and the Grizzly teams will travel to Southridge High School in Kennewick.