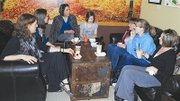 Guerra's Coffee Co. in Sunnyside is one of Sarah Deal's favorite coffee spots, but for the next month the little café will hold something uniquely special to Deal and her mother Boni - a collection of mother/daughter artwork by the Deals.
The exhibit is called "Mother/Daughter Twist" and went up at Guerra's last Friday to usher in Mother's Day weekend.
Boni visited her daughter for the weekend and the duo held a reception Friday evening to introduce their work to the community.
Sarah says she grew up watching her parents, who are internationally recognized ceramic artists, work. For over 35 years, Boni and her husband Dave Deal have made their living from their raku pottery.
But Boni has created her own artwork with acrylic paints, which brushes in layers of thin washes on watercolor paper.
Sarah's artwork is more diverse and says she loves to work with a variety of materials, including paint, collage, glitter and shells. Balance and flow are most important in the design of her work.
Boni describes her daughter's work as whimsical, while Sarah says her mother's is more experienced.
"She is so much more meticulous," Sarah said.
A close mother/daughter relationship between Boni and Sarah is evident through the artwork on display. Many of the pieces capture tender mother-child moments and Boni's pride and love for her daughter is clear, as Sarah is one of her favorite models.
The work of the Deal's will be up on the walls of the Sunnyside coffee shop until Thursday, June 9.