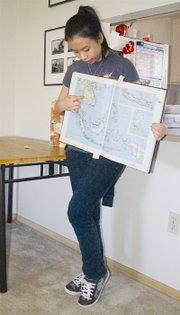 Sarali Phutiphat, a 17-year-old Rotary exchange student from Thailand, knows she's going home sometime in July, she's just not sure when.
It's something Phutiphat doesn't even want to think about. Her mother, back home in Thailand, keeps asking her daughter what date she wants to come home so she can book a ticket for her.
To say Phutiphat is enjoying her stay in Sunnyside is an understatement. She spoke to the Jr. Indelook Club at Pat Barr's house yesterday (Tuesday) about her experiences here and what it's like living in Thailand.
Phutiphat is currently living with her third host family and most recently returned from a trip to California, where she said she spent time on the beach. Phutiphat herself is from Trat providence in Thailand and lives minutes from the beach in her home country. Trat is approximately three hours southeast from Thailand's capital, Bangkok.
She told the ladies of the Jr. Indelook Club that Thailand is split into five sections; north, northeast, south, and east and west. Each region has its own dialect.
She said school in her home country is different than in Sunnyside. The class size is bigger, between 40 and 50 students, she said. Another difference is that everyone in her class has the same schedule of classes. When her morning class ends she moves en masse to the next class with the other students.
"In Sunnyside we have a different schedule," she added.
Being a Rotary exchange student has been a good experience for her, Phutiphat said.
"My parents were worried at first, but it was good, I had to take care of myself," she said.
She came to Seattle through Tokyo and had no problem in the Japanese city, but got lost in Seattle.
She said when she returns to Thailand she still must complete her senior year of high school. She then plans to attend university, either in Thailand, Japan or the United States. She wants to either become a lawyer or study something in the medical field.