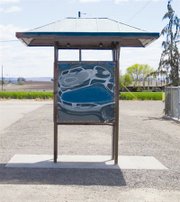 A little paint and a lot of elbow grease goes a long way, and putting both to good use has resulted in a more appealing Sunnyside Airport Pilot's Lounge, as well as the installation of an information kiosk near the fueling pumps there.
The project concept was the result of a tourism stakeholders meeting with Port of Seattle Commissioner Bill Bryant early last year.
Those present at the meeting included Chamber of Commerce Director Pam Turner, Port of Sunnyside Director Amber Hansen, Port Property Development and Project Manager Jay Hester, Business Owner Ted Durfey and a representative of the city of Sunnyside. Four of those individuals are members of Sunnyside's Daybreak Rotary Club.
Hester said the meeting's purpose was to discuss ways in which to draw tourists from the cruise ship industry to the Lower Valley. Those at the meeting believed one step in doing so would be to improve the airport lounge and to install an information kiosk there.
The Daybreak Rotarians decided the project was one to which the club could contribute.
"We are always looking for community projects," said Hester, who was the club's president in 2010.
The project was proposed to the club members and the members signed up to serve as volunteers and donated $700 toward the effort.
Also contributing $700 each to the project were the city of Sunnyside, Sunnyside Community Hospital and the Port of Sunnyside.
Daybreak Rotary Club members volunteered more than 60 hours the last two weeks of April to refurbish the lounge and install the kiosk, which once belonged to Central Washington University.
Hester said the bathroom was completely refinished. Installed were a new toilet, new sink, flooring and paint was added to the walls.
The main lobby received a fresh coat of paint and new flooring, as well as light fixtures.
"It was gutted and refinished to make the environment more appealing for pilots visiting Sunnyside," said Hester.
The kiosk was installed near the fueling pumps to provide those landing at the airport easy access to information about destination points in Sunnyside.
Daybreak Rotary, said Hester, was instrumental in ensuring the project's completion.