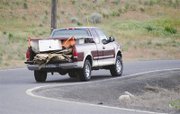 Drivers with unsecured loads, beware - extra enforcement is out and if you're caught, fines are stiff. Litter is more than just an eyesore. It is dangerous.
In Washington state, roadway debris - debris that gets on the road when it falls from or is thrown from a vehicle - caused nearly 1,000 collisions and 200 injuries between 2007 and 2009.
During May, the Washington Department of Ecology is teaming up with the Washington State Patrol and Washington State Department of Transportation to increase law enforcement patrols along the entire Interstate-5 corridor and in the Spokane area. State troopers will be on the look-out for drivers carrying unsecured loads.
"It's an easy choice," said State Patrol Chief John R. Batiste. "You can spend a few minutes securing your load, or spend a few minutes with us beside the road. We will be out in force and writing tickets."
The fine for failing to properly secure a load is $216. If something flies off a vehicle and causes property damage, the driver may be subject to misdemeanor charges and a fine of $1,000. If someone is injured, the driver may be charged with a gross misdemeanor, which could result in a $5,000 fine and up to one year in jail.
It's estimated that each year unsecured loads and litter cause 25,000 accidents in North America. Nearly 100 of them are fatal.
Along with the increased patrols, Washington State Department of Transportation overhead variable message signs will remind travelers to properly secure loads.
Funding for the state's litter program comes from a dedicated account, the Waste Reduction, Recycling and Model Litter Control Account (Chapter 70.93.180 RCW). Money is raised from a tax on industries whose products tend to contribute to the litter problem.
Over the two-year budget cycle that began July 1, 2009, more than $6 million has been transferred from this dedicated account to the State General Fund to meet other state priorities. This accounted for more than a quarter of the total litter budget.
Despite the cutbacks, Ecology Youth Corps and some county (e.g. correctional) crews have continued to pick up highway and roadway litter. Also, ecology officials continue to operate its "Litter and it Will Hurt" toll-free hotline and website to discourage state residents from littering by providing those who observe unsecured loads or acts of littering a way to report.
With fewer government resources being devoted to clean up state highways and roadways, there is a simple solution if you don't want to see more trash in our environment - don't throw it out there! Trash won't be an eyesore or a hazard on the road if it does not leave your vehicle.
To help keep highways litter-free, adopt a section of highway. The Adopt-A-Highway program allows individuals and groups to "adopt" a section of state highway by agreeing to take care of it for a two-year period. Volunteer groups may be clubs, employees of a business or concerned citizens. Businesses or groups can also hire state-approved contractors to pick up their Adopt-a-Highway section.
More information is available by visiting www.wsdot.wa.gov/Operations/adoptahwy.