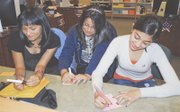 Sierra Vista Middle School seventh grader Elizabeth Garcia got the letter during spring break. Her parents, Juan Manuel and Mirella Garcia, could not believe the good news.
The letter said, "Dear Elizabeth: Congratulations! You have been selected as one of the U.S. Space Academy Scholarship Award winners..."
This is the fourth year in a row that a student at Sierra Vista Middle School has been selected for this prestigious scholarship for Washington migrant students, which will cover Garcia's plane ticket to Huntsville, Ala., her food and accommodations, and the U.S. Space Academy tuition.
Garcia applied for the scholarship in February after Sierra Vista Middle School counselor Lupe Fraga agreed to sponsor her. She had two weeks to write a three-page essay on why she wanted to attend the U.S. Space Academy, her academic goals and her life as a migrant student.
Garcia explained her life as a migrant student in the essay, saying, "I would never like anyone to go through this because it is a really hard life."
She discussed being a baby and having her older sister watch her in a car while their parents picked cherries, and how she woke up at five in the morning during the summer so that she could join her parents in the fields.
"Because of this hard work I have done, it has motivated me to excel in school."
And excel Garcia has. She has worked hard to earn straight A's in school and she has spent a good portion of her time committing herself to extracurricular activities and her community.
Garcia has been involved in basketball and volleyball, as well as th Mexican folkloric dance group named "Los Solecitos."
"I pride myself in being a representative of my family, school and community..." Garcia wrote in the essay.
And now, Garcia will be representing the Sunnyside community to a far broader audience. She will join eight other scholarship award winners from across the state on the trip to Huntsville this summer. She says she is most excited to meet and interact with new people, as well as to learn more about science and math careers.
These two subjects are some of Garcia's favorites. She says she enjoys not understanding a problem at first and working her way through it.
Garcia turned to her Sierra Vista Middle School science and math teachers when it came to getting references for the scholarship application.
Science teacher Roy Montelongo wrote, "Elizabeth would be an outstanding represtative for our state. She shows great interest and enthusiasm in science."
Gabriel Tobias, Garcia's math teacher, added, "Elizabeth (Garcia)...is a great self-starter. She works extra hard in order to find answers to any question."
Garcia leaves for the U.S. Space Academy on July 30 and will return on Aug. 6.