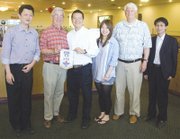 They sat in a private room at the China Buffet in Sunnyside sipping high-quality tea brought from home. The tea Tim Wen, his daughter Patricia Wen, Wenhui Liu, Sheng Lin, Peter Paget and Bill Flower were sipping was the same kind that Chairman Mao served President Nixon when the U.S. was opening ties with China.
It was only fitting then to drink the same tea, as Wen, Liu and Lin were in town to establish relationships and open ties with the Lower Valley, and most particularly Sunnyside.
The three businessmen have spent the past three days touring wineries and vineyards in Ellensburg, Walla Walla and the Tri-Cities. They are looking for wines to distribute to Southern China, where all three hail from.
There was another purpose for the visit, as well.
Wen said he has been looking into establishing a sister city with that of Guangzhou, his city of residence.
"I am hoping it will be Sunnyside," he said.
Scheduling conflicts kept him from meeting with city officials in Sunnyside, but he plans on being back next month and hopes to make contact then.
He said there is a big push in China to use sister cities to help each other with trade and promotion. Wen is hoping Sunnyside will be interested in just such a partnership.
Wen owns Allway Co., Inc, a distribution company that already imports four Washington wines. It's been a very popular import for the Chinese.
"That's why we're looking for more," he said of their trip.
They are looking for red wines, mainly Merlot, but are open to other varieties.
The Chinese, Wen said, are very impressed with American wines. The reputation of the quality and safety of U.S. wines is high and that's something that's important to the Chinese.
The businessmen were also impressed with the vineyards they visited and saw. Wen remarked that one vineyard that was 1,600 acres was taken care of by just 30 people. An operation like that in China would take hundreds, he said.
Wen said he, Liu and Lin will decide what wine they want to buy while in China and then come back in June with more buyers to make deals.