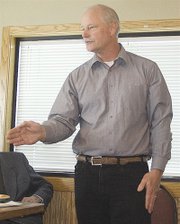 Sunnyside Councilman Don Vlieger has a simple way to help combat the gang problem in Sunnyside. Make the lives of gang members uncomfortable.
"If you want to change, when do you make that change?" he asked the Sunnyside Republican Club this morning.
"When you're uncomfortable," he answered.
Vlieger worked for the L.A. County Sheriff's Office for nine years as a deputy. The last three years on the force he was attached to a school district where he worked in gang intervention, suppression and prevention.
He said the first question that needs to be asked is what is a gang? He's heard people say before that they don't have a gang problem, noting that the troublemakers are nothing more than wannabe gang members.
"If a group does a crime, that's a gang," he said.
Vlieger doesn't believe in wannabe gang members, instead preferring to call them what he believes they are, gang members. He also doesn't buy into the belief that poverty can attribute to gangs.
"There are a lot of people in poverty that are not in gangs," he said. "I think the case can be made that being a criminal does more to put people in poverty than poverty does to make people criminals. You can't find one study that shows poverty causes gangs."
He said one answer he's heard as to why young people get involved with gangs is fun.
"If you want to change you change when you're uncomfortable," he said. "It's time to make the gangs uncomfortable. It's time to make their lifestyle not fun anymore."
He said prevention is the most cost effective way to do this. Intervention, he said, is the most expensive and least effective means, but one that is necessary, he said.
"You have to give these kids a place to go," Vlieger said.
His goal is to create pressure on the gangs, but also provide opportunity.
One club member asked Vlieger why the city isn't impounding the vehicles of people who commit crimes like driving without insurance or driving without a license. To him, he said, if you take away their mobility you can impact criminals immediately.
Vlieger said that law is already on the books. Whether or not to enforce that law is being looked at. He noted that the impounding of vehicles would have to apply to everyone, not just gang members.
He also said that a gang enforcement team should be on the streets of Sunnyside by June 1.