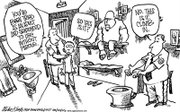 The summer of my 14th year was one of a nearly carefree life. But, I had no idea how much was going to change in a year.
It was the summer before I entered high school and what has me reflecting on that time period is the fact that my oldest son will be at that stage of his own life this year.
After graduating eighth grade, every possibility lay ahead of me. I was going to be a "high schooler" and I was thrilled.
I spent the summer traipsing the block-and-a-half to the baseball fields, where I watched "the boys of summer." I liked watching the American Legion players, as well as those playing Babe Ruth baseball. There was a certain anticipation.
I enjoyed baseball on television, as well. I loved watching my San Francisco Giants playing through the season on their way to winning the National League West title and eventually playing the Oakland A's in the World Series.
Will Clark was my hero that summer.
I also spent much of my time with friends. I walked from one side of town to the other just to hang around with my pals.
Sometimes we would mosey over to the swimming pool, which was also on the opposite side of town as my home. Other times we hung around the campus of the College of the Siskiyous because friends from neighboring communities were participating in various basketball camps there.
It really was ideal.
That is what I hope for my soon-to-be freshman...a summer of living carefree, not worrying about what tomorrow will bring.
Because all-too-soon, the summer will be over and he will be in high school, thinking about the impact his performance will have on the future.