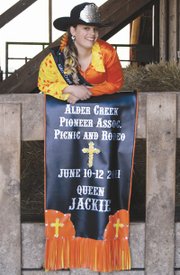 BICKLETON - Jackie Miller of Goldendale will reign as queen over this year's Pioneer Picnic and Rodeo at Alder Creek June 10-12.
The Goldendale High School senior is active in FFA, 4-H and an equestrian team that claimed first-place honors during a district drill competition.
This is the 101st year for the picnic and rodeo, which is held the second weekend of June.
Among the event's highlights will be the opening of the Bickleton carousel for free rides starting at 5 p.m. on Friday, June 10.
It is the oldest working wooden carousel in the state. Each year one of the horses on the carousel is restored through funds collected from the sale of collectible pins.
On Saturday, June 11, at 10 a.m. there will be a time of remembrance for area pioneers and residents who have passed away.
Rodeo action gets in gear at 1 p.m. Saturday with an NPRA-sanctioned event.
After the rodeo winds down on Saturday, that evening will feature a dance under the stars on a renovated dance floor. Cost for the dance is 6 p.m.
The floor will have a different purpose on Sunday morning, as an open-air worship service will be held at 9 a.m. That will be preceded at 8 a.m. by an NPRA slack performance.
The final rodeo event will be held at 1 p.m. on Sunday.
Camping is available for the three-day picnic and rodeo for $15. Day ticket prices are $8 for those ages 12 and over, $4 for those who are six to 12 years of age and free for those under six.
Two-day passes are also available prior to the rodeo at the Carousel Museum in Bickleton.
Concessions available for the event will include breakfast, lunch and dinner on Saturday, as well as breakfast and lunch on Sunday. Homemade pies will also be on sale.
For more information, such as directions, visit www.aldercreekpioneerpicnicrodeo.weebly.com or call 509-896-5250.