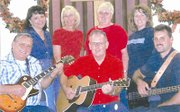 MABTON - The group The Joyful Noise will be the featured musicians at the May Gospel Jamboree on Sunday, May 15, at the Grace Brethren Church in Mabton.
The Joyful Noise is a regular participant at the jamboree and feature musicians from Prosser, Mabton, Sunnyside and Grandview.
The group has traveled all over the valley ministering in old fashioned Gospel music with singing, harmony, guitars, flute and drums.
The Mabton jamboree takes place every third Sunday of the month and is free to the public, however, donations are accepted at the door. Any musicians who may like to participate are welcome with an open microphone. For more information call 830-4578.