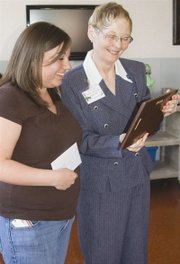 "This is the place you want to be if you're very ill. Everyone is so cheerful," said Bobby Hazzard about her sister's stay at Hillcrest Manor and Rehabilitation in Sunnyside.
That was one of many praises expressed last Thursday during the annual employee appreciation tea at Hillcrest Manor.
The event was prepared by families of elders at Hillcrest Manor.
Hazzard's sentiment was expressed tearfully by one of the manor's elders, Helen Price, who thanked the staff for their service.
Sergio Tovar from Sunnyside Community Hospital also spoke during the tea, and commended Hillcrest Manor on four consecutive perfect scores during state surveys of the facility.
He said Hillcrest is by far the preferred choice when patients at the hospital need a place to stay temporarily for rehabilitation.
Last week's event was also a chance to present anniversary pins to the following employees:
- Five year pins: Norma Garcia, Jerry Poff, Kathryn Redick, Paula Redick, Lupe Silva and Carla Stoops.
- 10 year pins: Pacita Ferrer and Raquel Zepeda.
- 15 year pins: Karen (Schab) Morrell, Cathy Ray and George Redick.
- 20 year pin: Roberta Neal
- 25 year pins: Martha Caballero and Anna Rodriguez.
- 30 year pin: Shirley Burns.
- 35 year pin: Patricia McPherson.
- 40 year pin: Mary Arthur.
A highlight of the afternoon ceremony was honoring Hillcrest's co-employees of the year: LPN Jessica Rowland and laundry supervisor George Redick.
Rowland was honored for her patience with the elders and listening to their concerns. Redick was honored for being a good worker and caring for the elders, as well as coming in on his days off to help out.
The employee of the year award is selected each year by a vote of Hillcrest employees. This was the first time the award was shared as Redick and Rowland tied for the most number of votes.