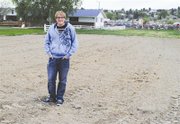 When Sunnyside Christian High School senior Brent Tyhuis was looking for a place to do some community service, he wanted to look at a place related to health care.
He considered volunteering at Sunnyside Community Hospital, but knew that he would primarily be doing janitorial work there. So instead, Tyhuis looked at Lower Valley Hospice and Palliative Care, hoping they'd be able to provide him with work that would be more meaningful.
That is exactly what he found. Rev. Ron Jetter approached Tyhuis with the idea of a community garden in an empty plot of land next to the hospice office. Tyhuis, who is no stranger to hard, outdoor labor, jumped on the opportunity to turn that idea into reality.
Over the summer, Tyhuis de-weeded the land, removed rocks and fence posts. Tyhuis says he clocked in more than 40 hours on the project during the 2010 summer months.
"It would not have happened without Brent (Tyhuis), "Jetter said. "He is just instrumental in getting this to happen."
Jetter remarked that many worthy projects die in the planning stages, but Tyhuis' determination to get the ground ready kept this project alive.
Tyhuis and his family are already planning to adopt one of the nine 20x40 plots of land. He says his family usually keeps a garden at their home, but they may focus primarily on the plot near the hospice.
Jetter hopes that people come out and adopt the remaining eight plots. There are endless possibilities for this community garden.
Tyhuis and Jetter said they hope the garden will be utilized by and benefit hospice neighbors.
"We want it to be a neighborhood garden," Jetter said. "It's how we make new friends."
Of course, the community garden is open to anyone who wants or needs a place to plant a garden. Plots can be tended by families like the Tyhuis', who plan to use the food they grow, or by groups, clubs or a collection of employees who can grow food to be donated to families in need.
Anyone interested in adopting a plot in the garden can contact Jetter at 509-837-1676.
More like this story