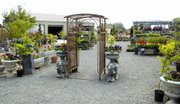 When life gives you lemons you make lemonade.
That's what Lava Rock Nursery and Landscaping owner Guy Auld did when he lost the use of his retail store adjacent to his property at 1990 Sunnyside Mabton Highway.
Auld doesn't own that portion of land next to his, instead he was leasing it. When the bank took back the property from who Auld was leasing it from, he was left with a bucket of lemons.
But what he did with those lemons is create a retail area less than 200 feet from the previous site, which is bigger and more spacious.
"We're sorry for the inconvenience this has caused, but we've created a hidden oasis," Auld said. "We have all the flowers we've ever had and more."
Since Auld bought Lava Rock Nursery he has expanded its operation a little bit each year. This year is no different.
The greenhouses were moved to the south side of the property and upgraded. Auld said the shelving was revamped so more plants could be grown. The gazebo was moved towards the house on the property and now sits on grass. More decor will be added to the area.
The new retail area is housed in a garage and an area near the greenhouses. It is larger than the previous retail site and Auld said he is able to display more product because of it.
"It's quite a bit bigger," he added.
Last year, Auld said, Lava Rock Nursery and Landscaping began selling patio trees and this year he has expanded into shrubbery and ornamental trees.
Two varieties of ornamental trees include Blood Red Japanese maples and Green Red Bark Japanese maples.
Auld said he also has one of the largest selections of million bells in the valley. Currently he has 18 different selections of the plants.
The house that currently sits on the property will partially be converted into more retail space in the future. This will allow more room for flowers and vegetables, something Auld has in abundance. Auld also carries bark and rock, seeds, shrubs and trees, as well as other gardening supplies.
Lava Rock Nursery and Landscaping is open Monday through Friday, from 9 a.m. to 5 p.m.; and Sunday, from 10 a.m. to 5 p.m.
"We're sorry it's confusing," Auld said. "We would like to invite everyone to come down and see the new location for themselves."