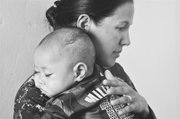 ABOARD USS CLEVELAND, AT SEA - Navy Senior Chief Hospital Corpsman Anna N. Wood is serving on board amphibious transport dock ship USS Cleveland (LPD 7) in support of Pacific Partnership 2011.
Wood is the daughter of Mitsuko Buskill, a resident of Grandview.
Cleveland is the lead vessel for Pacific Partnership 2011. Pacific Partnership is the Pacific Fleet's annual mission to Southeast Asia and the Pacific Islands to engage in partnerships with host nations by improving dialogue, effecting a lasting, positive change.
Cleveland will visit the Kingdom of Tonga, Vanuatu, Papua New Guinea, Timor-Leste and the Federated States of Micronesia, and the military group will be accompanied by non-government organizations like Project HOPE, Vets Without Borders and the University of California, San Diego Pre-Dental Society.
"I love being a part of a job that helps people," says Wood. "In the Navy, I have the opportunity to work side by side with sailors every day."
She added, "Above all that, this is an opportunity to teach my own children the importance of helping others that are in need."
Pacific Partnership developed as a mission following the tsunami in 2004 which devastated Indonesia and much of the South Pacific.
Since then, Pacific Partnership has treated 210,000 patients in 15 countries, and is supported by all U.S. uniformed services and partner nations that include Australia, Japan and New Zealand. Other nations providing teams include Canada, Spain, Malaysia and France.