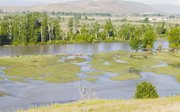 The Board of Yakima County Commissioners has proclaimed an emergency because of flooding on the Yakima and Naches rivers.
The Yakima River crested at just over 13 feet on Monday around noon in the Parker area.
County commissioners requested assistance from Gov. Christine Gregoire for damage assessments. They have also made additional requests for resources to be considered and granted when made.
Yakima County Emergency Management Director Jim Hall said the Yakima River is going down at a pretty good clip. As of this morning (Wednesday) the river was at the 8.8 foot level, which is out of the flood stage.
Currently a damage assessment is being conducted.
"We're looking to see what we need help with," Hall said.
Most of the damage appears to be west of Yakima. Hall said a number of private bridges along the Naches River have been damaged. The U.S. Corps of Engineers helped shore up four levies. These were in the areas of Rock Creek, Naches, Terrace Heights and Buchanan.
So far damage to property seems to be light. Hall said three families had to be evacuated from the Wapato/Parker area, but that was it.
"The rivers seemed to be able to deal with most of the water," Hall said.
Road closures near Sunnyside include Midvale Road at the 3900 block. The closest intersection is Holaday Road. The area of McGee Road and Dwinell Road is also currently closed.