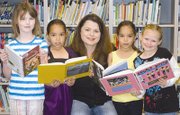 OUTLOOK - Lance Armstrong, Justin Bieber and Taylor Swift are coming to Outlook Elementary School.
The school library, that is, as it recently received a $5,000 grant from the Laura Bush Foundation.
All told, 241 schools around the country are receiving just over $1 million from the grant program, dedicated to enhancing school library collections.
For Outlook that means beefing up the non-fiction selection, including authorized biographies of contemporary famous people, says librarian Heidi Harris-Roedel.
"So much of the programming is fiction-based that kids are having trouble with informational text," she says. "We are placing an emphasis on non-fiction reading."
Harris-Roedel, who's been at the school for nearly 20 years, said the funds will help Outlook buy about 300 non-fiction books for the school library.
She says students are excited about the non-fiction focus. She says their wish list for biographies include the aforementioned celebrities.
But that's not all.
Student Roxsana Cisneros says she wants to read about Oregon, while another Outlook student, Kaydi Porter, is hoping to read books on dancing.
Harris-Roedel said the grant was based on Outlook's application that included information about the community and a plan to implement the grant funds if awarded.
The grant's been awarded and now Harris-Roedel can't wait to implement it.
"We're so fortunate, so blessed because these things don't come around very often," she said. "It's kind of like Christmas."