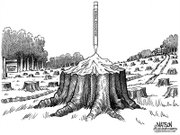 Serving as your Congressman, I try to never forget that my main priority is to find common-sense solutions for Central Washington when the federal government is involved. Our unique economy is driven in large part by agriculture-and ensuring that federal policies help, rather than hinder our farmers remains important to me.
Unfortunately, now farmers, forest managers and other resource industries that provide food, water and energy are caught in the middle of federal bureaucratic dysfunction. Federal agencies such as the National Marine Fisheries Service have concluded in a recent biological opinion that endangered salmon populations could be jeopardized by the use of crop protection products registered with the Environmental Protection Agency (EPA). This document was written behind closed doors without any input from farmers. The pesticides in question that protect our agriculture and food supply, and help control weeds and mosquitoes, have already undergone extensive review and approval by the EPA. Additionally, the Washington State Department of Agriculture has provided thorough and extensive studies of water quality and deemed that the pesticides do not pose a risk to salmon.
The National Marine Fisheries Service concluded that creating 100, 500 and 1,000 foot buffer zones would adequately protect salmon. If executed, these regulations would potentially impact 61 percent of our agricultural land in Central Washington-and would do little or nothing for salmon that isn't already being done.
I find many problems with these federal opinions-and am concerned about the economic impact of implementing these restrictive regulations and the precedent they would set. This is federal overreach at its worst and would only discourage economic growth and jobs in Washington state-a state where agricultural production that is valued at $9.5 billion and supports 82,000 permanent jobs.
To address this situation, the House Natural Resources Committee, that I chair, and the House Agriculture Committee held a joint hearing this month to express our concerns and hear from farmers directly affected by these federal regulations that will destroy jobs and devastate the agricultural sector. In this hearing, even a former Environmental Protection Agency official testified that the scientific modeling and data used to support these proposed regulations were deeply flawed. When these federal biological opinions were written, there was no input from farmers and growers that use pesticides every day. As key stakeholders in these decision, farmers and growers-and other state and local agricultural scientists--should have a seat at the table before any future decisions like this are finalized.
What was concluded in this hearing was that implementation of these measures as written would literally force farmers out of business, devastate rural communities and cripple the food production capacity of the Northwest and potentially the rest of the nation. As your Congressman, I will continue to provide oversight on federal overreach such as this-and will look at all options to address this problem during this session of Congress.
- U.S. Congressman Doc Hastings (R-Pasco) represents Central
Washington's Fourth
Congressional District.