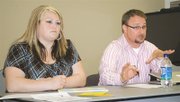 Last night (Wednesday) the Sunnyside Parks and Recreation Commission held an open meeting, hoping to receive public input regarding programs needed by the community.
Chairperson Kari Zapata said citizen input is invaluable when bringing the needs of the community before the city council.
"If people don't show up, things will remain the way they are," she said.
Max Saldana stood to explain to the commissioners there are parents willing to volunteer, especially if a program is one they believe in.
He oversees the Sunnyside Grid Kid football program and said the program has grown throughout the 20 years he has been organizing and coaching local youth in the program.
Saldana said he coached flag football for Sunnyside Parks and Recreation in the early 1980s. He believes a flag football program would benefit youngsters preparing for his program, as well as for the middle school and high school football programs.
"I have a big problem with gangs being the primary focus of the community," he said, stating approximately 95 percent of Sunnyside's youth are not involved in gangs.
Saldana believes the city's focus has been centered on the 5 percent of the youth who are involved in gangs, but the larger population deserves attention and programs to develop citizenship and skills of discipline.
"I believe in discipline, authority and pushing youngsters to work hard and do well," said Saldana.
He said his program serves nearly 150 youth and the Grid Kid cheerleading program serves another 150 youngsters in the community.
"I have never turned a child down...if a youngster cannot afford to participate, I find a way to fund the kid...I knock on doors," Saldana said to the commission.
He said the program's success is due to parent support. He said not every parent is able to volunteer all the time, but the parents support their youngsters in whatever way possible.
Saldana said he would volunteer his own time to help programs provided by Parks and Recreation, if programs were established.
Zapata said she and the commissioners were pleased to hear Saldana's willingness to volunteer. She said she is impressed with the Grid Kid program and would like more people like him to speak out, letting council know the community would support Parks and Recreation programs.
"When trying to push for funding for parks and rec, one concern is the need for volunteers. But (a fear of) a lack of commitment from those who say they will volunteer (remains)," she said.
Saldana continued, explaining the costs associated with the Grid Kid program, the commitment of the volunteers and how the program works.
He said Sunnyside will host the Lower Valley Grid Kid games this fall. Those games will bring 22 teams and their families to the community each Saturday.
Saldana said sports programs are an asset to the community in that way.
Because of his dedication to the youth of the community through his program, Zapata asked Saldana if he, as a citizen, would be willing to pay an extra $50 in property taxes annually to support a Parks and Recreation District.
Zapata said she asks the question of many she encounters.
Saldana said although his income is limited, the extra taxes would be an investment in the future generations, including his own grandchildren.
Sunnyside's Promise Director Mark Baysinger was asked if he could weigh in on the conversation.
Baysinger said he supports programs like the Grid Kid football and cheerleading programs.
"I agree with Max and thank him for his dedication," Baysinger said, stating he has learned much about youth in Sunnyside.
He said there are several elements that help youngsters learn skills that will benefit them in life.
"Providing activities will keep kids engaged in positive, pro-social activities, keeping them out of gangs," said Baysinger.
Commissioner Doug Rogers is a principal at Sierra Vista Middle School, putting him in a position that provides daily interaction with youth in the community daily.
He said the school district has an average of 500 students per grade level. "Although there are programs in place to provide activities, there are still a lot of kids needing activities," he said.
Using the numbers involved in Grid Kid programs, he said there are many more youngsters that need to be reached through other activities like soccer, baseball/softball, martial arts and other activities that might interest youth.
Zapata ended the discussion, urging community members to speak out regarding Parks and Recreation programs.