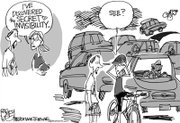 At a recent Sunnyside Republican Club meeting the subject of discussion was how to make gang members uncomfortable.
Sunnyside Councilman Don Vlieger was the program's speaker and he was asked by a Republican club member why the city doesn't impound vehicles when the drivers don't have insurance. Vlieger said that exact thing was currently being discussed.
Good.
I'm not insensitive to people who drive without insurance. I know vehicle insurance can be expensive. Heck, add one or two speeding tickets to a driver's record and the monthly cost for insurance can skyrocket to more than $100 a month, just for liability coverage.
So I can understand why someone, who believes they are a good driver, would forgo the high cost of insurance to spend their money on other things, such as gas, food and other household bills.
But while I can understand it, that doesn't mean that I excuse it. The bottom line is that people who drive on suspended licenses or without liability insurance are making the streets of Sunnyside less safe. And that has to stop.
The suggestion by the Sunnyside Republican Club member was a good one. Heck, the law is already on the books here in Sunnyside. The police are authorized to impound any vehicle that is driven without insurance. The same goes for vehicles driven by people without licenses or on suspended ones.
Enforcing this law might not stop the gang violence we've seen so recently, but it wouldn't encourage it either. And yes, enforcing the law would affect more people that for the most part are law abiding citizens, but it would make Sunnyside safer.
I'm not innocent in this. I have driven without insurance before. Back in 2004 I was pulled over and written a ticket for having no insurance. I believe the cost was around $300. I immediately got insurance and when I went to court my fine was cut in half. Having to pay $150 was still a burden, but who could I blame except for myself?
If a person has their vehicle impounded, the cost to get it out after one day would be close to $200. Add the cost of getting insurance and any fines levied and the amount can quickly add up. I would think it would just take one time before the individual driver got the message. YOU CAN'T DRIVE IN SUNNYSIDE WITHOUT INSURANCE!
The impact would be immediate. More and more Sunnyside drivers would have insurance, and that can only make Sunnyside safer.
As for gang members, any chance to get them off the road and make their lives uncomfortable is worth it. Just maybe, a vehicle that was going to be used in a drive-by would instead be impounded. Would it stop the violence? Probably not. But it would certainly make them uncomfortable and to me that makes it all the worthwhile.