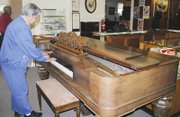 From 1865 New York to 2011 Sunnyside, the newest donation to the Sunnyside Museum has a long history and is among the new exhibits for visitors to enjoy when the museum opens.
The Sunnyside Museum Board of Directors have been busy preparing the exhibits for a yet to announced opening date, but at the center of their new displays is an 1865 Hazelton Bros. square grand piano donated by JoAnn Stear from Zillah.
Stear has been in possession of the piano for 25 years after a friend gave it to her. It has been at Eaton Hill Winery in Granger ever since.
The friend who gave Stear the piano, Teri Woods, had it in her home in Santa Barbara. Woods went to China and spent three years teaching English there. Stear says when her friend returned from China, she resolved to move into a smaller house and could not take the piano with her.
When it became known that Stear was looking to get rid of the piano herself, having elected to retire from the winery business, she managed to generate buzz. After refusing offers from two museums to purchase the piano, Stear offered it to the Sunnyside Museum.
"I just like the Sunnyside Museum," she said. "I think it's wonderful."
The small town museum happily accepted the piano, adding it to a growing collection of musical exhibits, which includes an 1885 Emerson square grand piano.
The new piano was handmade by the Hazelton Bros. in New York. Stear says that people who know about piano manufacturing can take the piano apart and identify which pieces were made by certain craftsmen.
"That's how personal their craft was," she said.
The piano was delivered Wednesday afternoon and Stear played Amazing Grace on the freshly tuned instrument to welcome it to its new home.
Also finding its place on display in the museum are a collection of wood carvings from Walla Walla resident and Sunnyside High School graduate Joye Nelson.
The downstairs exhibits, which focus on the history of Sunnyside, are being completely overhauled and will feature new historical photos and descriptions of the people and places that made Sunnyside.
There is also a handmade cabbage slicer from 1874 donated by the Christiansen family from Prosser. This piece of history is reportedly made from barn wood.
But along the back wall another exhibit has volunteers working hard to get the museum open for Memorial Day - a military exhibit.
The exhibit will feature several uniforms, including one that was worn by Sunnyside resident Les Amundson, who fought and was a prisoner of war during WWII.
Among the uniforms, other trinkets from past wars can be found, including a small Bible with a medal casing that soldiers wore in their breast pocket during WWI. The one on display at the museum bears the words "May this keep you safe from harm." Its metal case did just that for several soldiers during the war, sometimes stopping bullets from reaching their hearts.
Also in the exhibit is a crutch issued by the military to a wounded Hiroshi Furukawa, a Sunnyside resident and soldier during WWII.
Furukawa and two of his brothers fought in the war despite his family being moved to an internment camp in the United States. One of the Furukawa brothers did not make it back home.
Museum volunteers are still working on the display and hope that people will contact them to put some of their war memorabilia in the display.
The volunteers are hoping to add awards, medals and discharge papers and wants people to know that their loaned items will be safely stored with the exhibit.
Anyone interested in donating their items can contact John Saras at 509-643-1425.