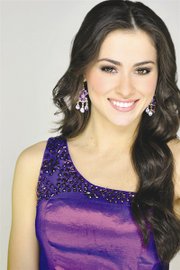 VANCOUVER, WA. - Angelina Kayyalaynen immigrated to the United States nine years ago. Next month she'll have a chance to represent her adopted country as she and 50 other contestants vie for the title of 2011 Miss USA.
Kayyalaynen was Miss Orchards and represented a section of Vancouver. Last October she was selected as Miss Washington USA.
"The date was 10-10-10," she said. "That was kind of cool."
She's made various appearances across the state since then. Most recently she tossed the first pitch at a Seattle Mariners game, a 3-0 winning effort against the Los Angeles Angels.
She also volunteers with the Aware Organization. With this organization she goes to middle and high schools, where she speaks to teenagers about maintaining healthy relationships.
She leaves for New York next week, where she and other contestants will go on a media blitz to promote the June 19 Miss USA Pageant in Las Vegas. Kayyalaynen said she will make appearances on the Today Show, Fox and Friends, and Regis and Kelly.
Why get involved with pageants?
"I've been watching pageants forever," she said. "It's a great privilege, having people look up to you. But the best thing is all of the people you meet. It's a great way to make connections and network."
On May 15 the preliminary pageant will be held, where the field will eventually be narrowed down to 15. For the first time ever, people will be able to go to the Miss USA and NBC websites and cast their vote for one of the contestants. This way, the voting public will have the power to elevate one contestant into the top 15.
The May 15 preliminary pageant will be streamed on the Miss USA Pageant. At this event the young women will compete in the swimsuit and evening gown competitions.
The main pageant will be held on June 19 and be shown on NBC.
If the 21-year-old Kayyalaynen wins she will then become roommates with Miss Universe, Ximena Navarrette from Mexico. Kayyalaynen will then spend the year living in New York City and being an advocate for breast and ovarian cancer research, as well as partner with the USO.
If things don't work out, Kayyalaynen will return to school in the fall. She plans to study at WSU-Vancouver.