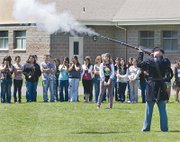 Last Friday eighth grade social studies students from the classrooms of Nicole Rounce and Maria Garcia were provided a special presentation.
The students have been studying the Civil War in class and Rounce was able to contact a Civil War re-enactor to provide the presentation.
Students were able to get an up-close-and-personal.
"The presentation is important for bringing history to life," said Rounce.
She said the idea of bringing a re-enactor to the school was first developed when she was a student teacher about 10 years ago.
Rounce said her Master's degree teacher included a Civil War re-enactment in his lesson plans, and four years ago when she arrived in Sunnyside she began looking to incorporate a similar presentation in her history curriculum.
She began searching the internet and found a website for the Washington Civil War Association, which led her to Bruce Frazier.
The Selah man is a regular participant in re-enactments at Ft. Simcoe, one of which will take place over the course of three days next month.
Rounce emailed Frazier and this past January he responded, stating he would be willing to provide students at Sunnyside's Sierra Vista Middle School a presentation.
Rounce said she has had many conversations with him and learned Frazier has two daughters who participate in re-enactments as well.
"He uses real muskets, so we did have to let the Sunnyside police know what was happening," Rounce said.
She said Frazier's presentations include demonstrating how wounds were wrapped during the Civil War.
Frazier dresses as a Union Army soldier and his muskets have real bayonets on the end.
He demonstrated how to add the bayonet to the end of a musket before having a student assist him in stacking the rifles in a manner that allowed soldiers to grab them in a moment's notice.
Rounce said two other re-enactors were supposed to accompany Frazier Friday, but they had to cancel at the last minute.
In addition to dressing a wound, Frazier showed the students the various tools used for treating a wound, removing bullets and amputating a limb, none of which was sterilized in the early 1860s.
Frazier told the students soldiers were provided ether prior to an amputation, but the substance was not very good at anesthetizing the soldier.
Soldiers were also sent back into battle if a wound was not life-threatening or in need of surgery.
"If you have a gut wound and aren't going to make it, you just lie there in the field," Frazier explained, adding, "We'll get to you when we can...if we get to you at all...you are just out of luck."
Frazier also told the students the Washington Civil War Association exists specifically to commemorate the war that impacted the United States greatly.
He reviewed with the students who was serving as the President at the time and explained the purpose of the war.
Frazier said most days soldiers in the war marched 20 miles per day. "Do you want to march 20 miles?"
Rounce said the presentation is provided to engage the students. "I want to fuel a passion for history in the students," she said.