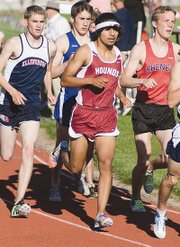 PROSSER - The Grandview Greyhound boys and girls track teams ended their 2011 season this past Friday at the Regional track meet in Prosser.
Grandview sent two athletes to Regionals and both placed to score team points for the Greyhounds, but fell short of earning State bids.
In the boys meet, Javier Neri was sixth for Grandview in the 1,600 meters with a time of 4:49.69.
Cheney won the boys meet with 115 team points. Grandview was 17th with three points.
In girls competition, Grandview's Adriana Ramos scored for the Lady Greyhounds with an eighth place mark of 4-8 in the high jump.
Cheney also won the girls meet in team scoring with 92 points. Grandview was 17th with one point.
"I thought the kids we had competed hard each week," Coach David Gibb said of the recently wrapped up season. "There were a lot of personal records as the season progressed."
Gibb added, "We have a good group of young kids. I hope to see them improve next season and continue to move on."