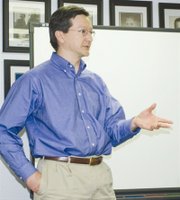 MABTON - The 2010 Census continues to have an impact in the Lower Valley, as last night the Mabton School Board learned it will need to redraw boundaries for three director positions.
The boundaries of the Mabton School District are divided into three districts, from which three board members, or directors, are elected. The other two directors are at-large positions.
Monday night, ESD 105's chief information officer, Mike Vachon, told the board that 2010 population figures show District 1 has 1,011 residents, District 2 has 1,050 and District 3 has 1,494.
The idea, he said, is for each district to have balanced population levels.
With District 3 now having 400 more people than the other two, Vachon said Mabton will have to redistrict the director boundaries this year.
"There's no big rush on it," he told the board, noting September is the deadline to have the new boundaries in place.
With the candidate filing period coming up on June 6, Vachon said this year's school board elections won't be affected by redrawn boundaries.
Ideally, he said it would be good to have the new boundaries set before the candidate period.
But with time needed for both the federal and state governments to process the census data, Vachon said only six of the 18 school districts in ESD 105 will have new boundaries in place.
Re-drawing district boundaries will take time, as board members first need to settle on new district lines, then hold a public hearing and then approve a resolution.
The board last night agreed to have Vachon return with new director district boundary line proposals.
The three board members bound by director district lines are currently Lupe Maldonado, District 1; Blanche Tobin, District 2; and Elsa Sanchez, District 3. Board members David Rodriguez and Jeanette Williams are at-large.
Tobin and Maldonado's positions will be on the ballot this fall. Tobin indicated in a note to the school board last night that she will not seek re-election and will finish up her four-year term at the end of this year.
Rodriguez's at-large seat will also be on the ballot.
Vachon said the new director boundary lines will take effect in 2012.
If any of the three board members elected based on district boundaries have their district residency change when the lines are re-drawn, Vachon said they will be able to finish out their term.
If they want to stay on the school board after their term expires, they would not be able to seek re-election and instead have to run as an at-large candidate or from their new district.