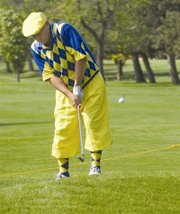 This year's Bill Christie Memorial Two-Man Best Ball Tournament turned out to be a two-horse race.
A field of 52 linksters, 26 best ball duos, invaded Sunnyside's Black Rock Creek Golf Course this past weekend, all vying for a purse totaling $5,000. In the end, however, it came down to a pair of two-man teams from the Tri-Cities gunning for the top prize.
Walking off with 2011 bragging rights, it turned out, were Hank Chafin and Keith Best. Regulars at Pasco's Sun Willows Golf Course, the duo ham-and-egged their way around the Sunnyside course over the course of the two days with an 11-under-par 133.
The only team to give Chafin and Best a serious run for their money was the duo of Chris Indall and George Jackson, members of the private Meadow Springs course in the Tri-Cities. Indall and Jackson managed to stay within three strokes of the winners, concluding play with an 8-under-par 136.
Grandview's David Stokes and former Sunnysider Kurtis Bierlink, now a regular at Spokane's Hangman Valley Golf Course, were in the hunt in day one action. The pair finished Saturday's play at 5-under-par 67, just two shots back of the first-day leaders, Chafin and Best. Sunday proved to be a different story for Stokes and Bierlink, though, as they could only manage a 1-over 73 to close out the tourney. That left them in third place with an overall 36-hole round of 4-under-par 140.
Also cashing in this past weekend's tourney were the fourth and fifth-place finishing teams of Rick Wolff and Hector Garza, both of Othello; and the Sunnyside duo of Andrew Schutt and Sean Tudor. Wolff and Garza went 71-70 for a 3-under-par 141, and Schutt and Tudor tallied rounds of 70-72 for a 2-under-par 142.
In this past weekend's net scoring column (actual score minus handicap), the duos of Bill Combs/Bob Barker and Stewart Rogers/Wally Flores tied for top honors. Each of the teams shot handicap-aided 122's.
Combs and Barker, both Sunnyside golfers, shot net rounds of 64-58. Rogers and Flores, also regulars at Black Rock Creek, had handicap-aided rounds of 62-60.
A pair of Prosser duos claimed third and fourth-place honors on the net side of the score sheet. Notching a handicap-aided 127 were Mike Nichols and Doug Rowell, with Eddie Joe Risk and James Holt one stroke back at 128.
Tying for the fifth and final cash prize on the net side, with identical handicap-aided rounds of 130, were the duo of David Bos and Chris Hollmeyer, both of Sunnyside, and the Grandview pair of Mark Koreski and Tom Diener.
Cash prizes for the six low scoring net teams ranged from $700 to $150.
In winning this year's overall championship, Chafin and Best were one of six squads to shoot sub-par rounds on the opening day. Their seven-under-par 65 set the early pace. Saturday's round for the eventual winners included nothing worse than a par. Chafin knocked down four birdies for the team on the opening day, back-to-back tweeters on holes 6 and 7 and on holes 13 and 14. Best got his birds on the front and back nine opening holes, as well as on the par-3, 17th.
Stokes and Bierlink finished Saturday's play just two strokes back of the Pasco-area golfers, carding a 67. Stokes proved to be the workhorse in the first round, recording all six of the team's birdies. They came on holes 3, 7, 13, 14, 16 and 17. The duo did give back a shot on Saturday, absorbing a bogey on the par-3 ninth.
The eventual runners-up, Indall and Jackson, bogeyed the front and back nines' closing holes Saturday, but with three birdies by Indall and another two by Jackson, were only four shots off the early pace with a 69.
Also shooting sub-par rounds on the first day of the tourney were Schutt and Tudor with a 70, Wolff and Garza with a 71, and West Campbell and Paul Dempsey of Yakima with a 71.
The defending Christie Memorial champions, Jason Eberle and Trini Madrigal, were at even-par 72 after Saturday's round. The two Lower Valley golfers pretty much kept their ship on the same course Sunday, finishing up play with a 73. Their two-day, 1-over-par 145 left the 2010 champs in a two-way tie with Campbell and Dempsey for sixth-place honors, one spot out of the money.
In trying to make up the two-stroke deficit to Chafin and Best, Stokes and Bierlink put themselves in a hole from the get-go on Sunday, taking bogeys on the first and second holes. Stokes got the duo back to even-par for the day with birdies on holes 5 and 6. Two more back-to-back birds on holes 13 and 14, both par-5 affairs, by Stokes slipped the eventual third-place finishers to 2-under for the day. But any thoughts of rallying late went by the wayside when both Stokes and Bierlink double-bogeyed No. 15. Another bogey on No. 18 relegated the pair to its third-place finish.
Indall and Jackson, the runners-up, birdied four of the first seven holes on Sunday, all notched by Jackson. That got the Meadow Springs golfers to within two shots of the leaders, Chafin and Best, who went two-under through the same stretch.
It remained a two-stroke gap between the two duos through No. 12.
The par-5, 13th proved to be Indall and Jackson's undoing, however, as neither could post anything better than a bogey on the hole. With both Chafin and Best taking a par there, the eventual winners were in firm control, up by three with five holes to play.
A tweeter by Best on the par-4, 16th increased the lead of the two Sun Willows' regulars to four strokes. Indall accounted for the final three-stroke deficit by nailing down a bird on the par-4, closing hole.
Besides the $5,000 in prize money available to this year's tourney field, in part made possible by a $750 sponsorship donation made by Hogue Ranches, Tom Denchel Ford anted up four hole-in-one prizes. The special prizes on the four par-3 holes included a new Ford pick-up truck, a set of golf clubs, a vacation package and a sound system. Unfortunately for the tourney participants, none scored an ace to walk off with one of the hole-in-one awards.