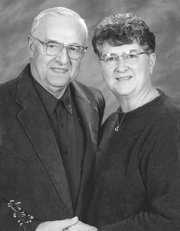 Joe and Janice (Bogert) Albrecht of Sunnyside will celebrate their 50th wedding anniversary on Saturday, June 4, from 2 to 5 p.m. at Bon Vino's Bistro & Bakery in Sunnyside.
The two were married on May 26, 1961 at the Sunnyside Christian Reformed Church.
Joe moved to Sunnyside in 1948 from Carnation, Wa., and Jan was born in Sunnyside.
Both Joe and Jan retired from Bailey Nurseries, Inc. Joe was a farm manager and Jan was a secretary.
The Albrechts have five children. Jeff Albrecht lives in Outlook; John Albrecht lives in Bend, Ore.; Jinger Jacobson lives in Camas; Judy Arevalo lives in Sunnyside and Jody Albrecht lives in Sunnyside.
The couple has 11 grandchildren.