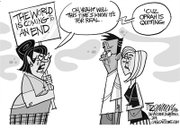 What were you doing when the end of the world came along?
Me? I was reading a good book. Not the Good Book, mind you; just a regular old novel, with no religious or spiritual value whatsoever.
According to a California preacher, the rapture should have occurred at 4:45 p.m. last Saturday, May 21. So dedicated to this date and time were he and his followers, that they actually took the time and spent the money to put up billboards across the country to announce the end.
But, as evident by the fact that I am alive and well enough to write this article (and you're not doing so badly, either, apparently), the end did not come.
Apocalyptic predictions are as old as mankind. It seems every few years there is a new one for people to cling to.
But for me, eagerly awaiting the end is nonsense. I don't profess to understand the Bible nearly so well as most people, but I do know the Bible says this about the end of times:
Matthew 24:36 - "But about that day or hour no one knows, not even the angels in Heaven, nor the Son, but only the Father."
I like the way that people, like that California preacher, seem to think they can outsmart God and that so many people are ready to believe that their preacher is the special one - that out of the thousands, possibly millions, of people who have predicted the end of the world, their church leader, above all those others, got it right!
But to me, preparing for the end seems pointless.
Stopping to make sure we've said 'I love you' to those we care about, mended broken fences with family or friends and taken the time to ensure our faith in God is feeding our soul are not acts that should be done last minute. It should be practiced and lived every day.
Taking the time to prepare for some day that no one can predict is taking time away from living life. I don't believe God intends for us to live in fear of the end. He wants us to live, love and be happy, which is why we should never know when the end will come.
The choice to accept God into your heart should be done without the apocalypse looming over your head. The decision to follow the Christian faith should be based on what is in your heart, not from fear.
So I say, leave the apocalypse alone. When the end comes, whether it's tomorrow or in a 1,000 years, be prepared because you lived your life prepared, not because you got some apparent inside information.