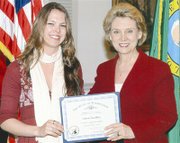 Volunteering one's time is not about receiving accolades, but recently more than 60 Washington residents were recognized for their volunteer work at a luncheon at the Governor's mansion in Olympia.
Among those honored was Sunnyside's Promise's own AmeriCorps VISTA volunteer Celeste Goulding.
Goulding was nominated for the award by Maribel Rodriguez, a former secretary at the Sunnyside Community Center.
Though Rodriguez and Goulding worked together at the community center for only a few months, Rodriguez noted that Goulding had an open-door policy and was always ready and willing to talk with and help people.
Goulding attended the luncheon in Olympia with 64 other Governor's Award winners from across Washington state. Goulding said she was pleased to see so many winners were people who were not attached to a program like AmeriCorps.
"A lot of them were just people who volunteer in their communities," she said. "These people donate their time whenever and wherever they see a need."
Gov. Christine Gregoire spoke at the luncheon, praising volunteer workers and revealing that Washington state has one of the highest rates of volunteering in the United States.
Goulding says that volunteer work seems to be a very obvious choice.
"Why not?" she said. "It's better than just sitting and watching TV. There is so much to be done...if you have extra time or extra energy, why not?"
Goulding continued, "And it does feel good; to know you're being useful is a lovely feeling."
Though an Oregon native, Goulding has committed herself to serving the Sunnyside area and working with Sunnyside's Promise through AmeriCorps' VISTA volunteer program.
After a short stint with the community center, she moved on to work with fundraising, grant writing and the domestic minor sex trafficking grant.
While attending college, Goulding was a founder of the Oregonians Against Trafficking Humans organization, so the issue is something she has experience with. But Goulding says many of the clients referred to Sunnyside's Promise are young, which is something she did not have much experience with before working with the program.
It's been a whole new learning experience, says Goulding. There are more chances and opportunities for youth pulled out of sex trafficking situations than for adults, but it also is more disheartening, she added.