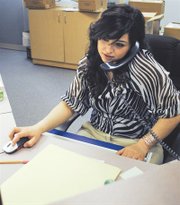 From courtesy clerk to building secretary, 19-year-old Jacqueline Renteria has run the gamut of jobs as she searched for a life-long career to call her own.
Renteria says in high school she knew exactly what she wanted to do after graduating. She had always planned on being a dental hygienist. But it was not long after beginning college she discovered the career was simply not for her.
But Renteria did know she enjoyed working with people. As a Grandview High School student, Renteria got a job at the Grandview Safeway, despite her parents' disapproval.
As a courtesy clerk, Renteria got the opportunity to meet customers and talk with new people.
The only thing Renteria did not like about her job was helping customers to their cars with groceries when the weather turned cold.
After six months at Safeway, Renteria left to focus on her senior project.
After she graduated from high school in 2009, Renteria went to work at Payless Shoe Source in Sunnyside while she worked getting her prerequisites for the dental hygiene program at Yakima Valley Community College.
After deciding she did not want to be a dental hygienist, Renteria left school in order to consider her college options. Leaving college was a mistake, Renteria says. She says it is much harder to get back into once you've left.
But while Renteria was not going to school, she stayed with her job at Payless and got another at AT&T before leaving both for GMC Training Institute in Grandview.
With GMC, Renteria was an employment and training assistant, where she helped people with their CDL, forklift licenses, GEDs and citizenship. They also offered language and computer classes.
Renteria says she did a lot of scheduling at GMC, and handled payments.
After a year, Renteria was trying to decide where she wanted to take her life. After having thought she knew what she wanted, she was suddenly left with some very big decisions ahead of her.
"I had to see what else was out there," she said.
One day, Renteria read an advertisement about a job opening at Artz-Fox Elementary School in Mabton. But applications for the job were closing that day, so she had to hurry in order to get her resume and letters of recommendations in.
"I thought the worst that could happen was that I didn't even get an interview."
But Renteria did get an interview, and she soon got the job offer.
As building secretary for Artz-Fox, Renteria has a lot of responsibilities, including scheduling appointments, ordering, working with benchmark data and translating.
But for Renteria, the real highlight of the job is working with the children.
"I love the kids," she says. "Kids make my day. They're really fun."
Renteria also likes working in the small community of Mabton.
Renteria has only been at her new job since January, but she says it has already opened up new future career avenues for her to consider.
While she has given teaching some thought, she has learned a great deal about the school administration and their very important work in supporting the students. She says she may look into that when she returns to Yakima Valley Community College in the fall.
But for now, Renteria is happy where she is.
"I love what I do and I love being here every day," she said. "I like it here and I hope to be here for a while."