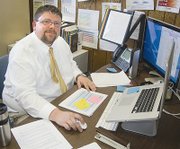 Sunnyside native Eric Sylling is bidding goodbye to the Sunnyside School District and moving with his family to Spokane to become principal at Shadle Park High School.
A 1991 graduate of SHS, Sylling taught in the Mabton School District for eight years before working the past six in Sunnyside.
His experience here included serving as an assistant principal and, curently, as director of the grant-funded Summit and Merit programs.
"I've really enjoyed my work here, there have been a lot of neat opportunities and hopefully I've done some things to help the students and staff," Sylling said.
Sylling said the move to Spokane is to be closer to his wife's family.
And, of course, it's also a promotion to the principal position at Shadle Park, which like Sunnyside is a 3A school. With an enrollment of 1,500 students, it is slightly smaller than SHS.
Sylling was one of five semi-finalists for the position and one of two finalists for Shadle Park's top post.
When asked about why his credentials stood above the rest, Sylling replied it may have been his experience as both an assistant principal and in a district-wide director's position.
"I've had a lot of leadership opportunities in the Sunnyside School District, that made me a little different as a candidate," he said.
Sylling said it also helped that he had experience in the Lower Valley working with students and families affected by poverty.
He said the Shadle Park area is changing in Spokane, and noted it too is seeing an increase in families living in poverty.
Sylling is making the transition, he starts work at Shadle Park on July 1, during a time when the state legislature is still unsure to what extent education funding will be cut.
In the face of that uncertainty, Sylling said Spokane schools had to lay off 238 certificated staff, including all school counselors, with the hope that some might be brought back pending completion of the state budget.
"It will be a challenge, but every principal in the state is facing the same challenge," Sylling said. "Our situation in Spokane won't be unique."
He's looking forward to the opportunity, but Sylling says he will miss his family here.
Sylling says he's especially going to miss the district's students.
"We have some of the nicest kids around," he said. "I'm so impressed by the kids and staff in the valley."
June 30 will be the last day of work in the Sunnyside School District for Sylling, whose wife will also leave a drama teaching post at SHS.
"I'm very grateful for the opportunities I've had here," he smiled. "Being an SHS grad it was neat to come back and work here and give back to the community that's given me a lot."