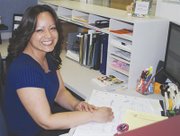 GRANDVIEW - Since 2004, students, staff and visitors to Yakima Valley Community College in Grandview have been greeted by bilingual front desk clerk Zulma Ochoa. Among her many responsibilities, Ochoa has helped students register for classes, pay admission fees and connect with advisors.
Altogether, she is a Mecca for information, guidance and advice, and she does it all with a friendly smile upon her face.
But it was a long road for Ochoa, who came from a struggling migrant family. At seven years old, when Ochoa's younger sister was born, Ochoa took upon herself enough responsibility to overwhelm an adult, much less a child.
Ochoa looked after her young sister, learned to cook and cared for her family. Each year seemed to add one new responsibility, until Ochoa took her hard working sensibilities outside the home.
Thanks to People for People, at age 14 Ochoa was hired on at Radio KDNA in Granger. She began with clerical labor, but later added radio voice work to her duties.
However, Ochoa's parents moved her family to California, where she continued high school until her senior year. The divorce of her parents and fighting eventually drove Ochoa to leave her family and return to Washington when she was just 18 years old, but education remained something important to her.
"I knew the only way to move forward was to have an education and I thought the fastest way to do that was to get my GED."
In those early years, Ochoa had a baby boy and got a job at the Grandview School District with help from People for People.
Ochoa started as a paraprofessional at Harriett Thompson Elementary, a job she carried over to Grandview Middle School. Later, she applied and was hired as the GMS attendance clerk.
A year after Ochoa married, she and her then husband took in his two children from his previous marriage.
Over a very short span of time, Ochoa went from a mother of one to having a total of three young boys.
"They came with a world of challenges," she said, but Ochoa marvels at how the family managed to forge ahead and address those challenges with great success.
Much help came from Ochoa's middle school co-workers. Before the boys were brought to Grandview, she says that family of friends banded together to ensure the newly family had everything they needed.
Today, despite Ochoa's divorce from her husband, the family remains close.
"I made one son, but I have three," she said.
While Ochoa was keeping her unique family together, she received a new job opportunity courtesy of Lupe Fraga, the YVCC GED administrator.
Fraga understood that Ochoa was not happy at the middle school anymore and told her about the open position at YVCC.
She says that the college director called her three months after she submitted her application and said, "You sound too good to be true."
He had called her references, received more references from them, and did not find anyone who had a bad thing to say about her.
Officially, Ochoa is the bilingual office assistant III, for admissions and registration, at the college campus.
Since she got her GED Ochoa has worked in various aspects of education, but she continues to want to achieve. Eventually, Ochoa hopes to teach at the college level, but her heart is really set on one day opening a restaurant.
But for now, she continues to work hard and achieve more. She is raising her three boys and engages in her community - most notably through her service on the Grandview School Board.
But whenever an event is in need of volunteers Ochoa or one of her sons is there ready to help, because whatever she might achieve in her career or personal life, Grandview and its residents has been one positive constant in her life.