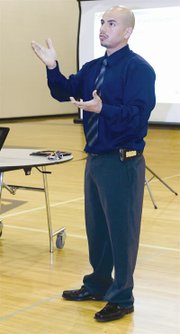 MABTON - The city of Mabton needs upgrades on its aging wastewater treatment plant. The situation is so dire that if nothing is done a sewer moratorium could be slapped in place.
That means no more sewer hook-ups. That in turn means no more new houses, apartment buildings, businesses, stores and restaurants. Add on the potential fines from the Department of Ecology and Mabton could go by the wayside.
To help stop this from happening, the Mabton City Council has proposed raising sewer rates to help pay for the projected $5.7 million upgrades to bring the plant in compliance.
Currently, Mabton residents pay approximately $35 a month for sewer services. A $3 hike was tacked on last month. Mabton Mayor Angel Reyna told a group gathered last night at Mabton High School their bills could actually double.
Reyna and members from Gray and Osborne, the city's engineering firm, were on hand to explain the proposed upgrades to the city's wastewater treatment plant.
Wastewater is any water that has been adversely affected by human activity. It originates from toilets, sinks, showers, baths, clothes washing machines and dishwashers.
When this water goes into Mabton's wastewater treatment plant the contaminants are removed and the clean water is introduced to the Yakima River.
Reyna explained that the reason wastewater is treated is because if left untouched, it can cause serious human health hazards, such as the black plague, cholera and hepatitis.
The untreated water would also cause environmental hazards to the Yakima and Columbia rivers.
Reyna told the approximately 75 people gathered at last night's informational meeting that each Mabton citizen produces approximately 80 gallons of wastewater on a daily basis.
This claim drew disbelief from one citizen. She said she lives alone, doesn't have a dish washer or a clothes washer. She doesn't drink the tap water in her home and said she only flushes the toilet maybe twice a day. She asked how she could produce 80 gallons of wastewater a day.
Nancy Morter, an engineer with Gray & Osborne, said the figure is estimated by taking the average flow of wastewater per day, which was 145,000 gallons in 2010, and dividing it by the number of residents.
The problem at the wastewater treatment plant is the city is violating its discharge permit with ecology. The facility is receiving more wastewater than it was designed to receive and some of the components at the plant are old and beyond their useful life. Some components don't even meet current Ecology standards.
Reyna told the Mabton citizens the way to solve the problem is design upgrades to the wastewater treatment plant and then construct them. To do this the city is raising sewer rates and is seeking low-interest loans and grants from various state and federal agencies.
The thought of having their sewer bills doubled has some citizens worried. One mentioned that her father lives alone in Mabton and is on a fixed income. She said doubling his sewer bill would cause a hardship.
Reyna said he and the council understand and are not comfortable with what they have to do, but it has to be done.
"It's a necessary evil," Reyna said. "I've lived here most of my life. I don't want to do this, but there is no other choice."
He said the council plans on raising sewer rates by $3 every six months to help ease residents into the higher cost of the sewer rates.
Reyna also encouraged the residents to fill out an income survey that will be coming to them soon. The city wants an income survey completed because the state has Mabton at having a median household income of $35,000. Reyna and the other council members believe this is too high. If he is right, this could help the city get more grants instead of loans.
Most of the question and answer period was conducted in Spanish so it was hard to get a feel of what the crowd's mood was towards the rate hikes. But Hilda Ramirez, a Mabton resident in attendance last night, told the Daily Sun News that the presentation given by Reyna made sense.
"Everything needs to grow and we're going to need it," she said of the wastewater treatment facility upgrades. "As for the price hike, it's the same as gas. Whether you want to or not, we're going to need it."