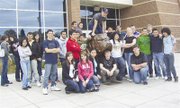 SPOKANE - A total of 47 sophomores at Sunnyside High School enjoyed a college experience for a day when they traveled recently to Gonzaga University.
The students, along with teacher Teri Alvarez-Ziegler and Principal Chuck Salina went to Gonzaga as part of a science-related program.
The SHS science students were divided into four groups upon arrival at Gonzaga. Two of the groups performed a laboratory experiment, which allowed them to create two different types of polymers. In this case, they created polyester and nylon.
The other two groups went to Gonzaga's biology lab, where they performed a dissection lab on earthworms. At the same time, they were making hypothesis and experimenting on earthworm behavior with live specimens.
Because it was a university setting, pairs of student were able to perform each laboratory themselves and utilize all of the designated equipment. Once the hour-long lab was completed, the groups were able to switch laboratories.
Students were served lunch in Gonzaga's dining hall. This was followed by small group tours of the university campus.
The tour wrapped up with students checking out the Gonzaga University book store.
Alvarez-Zieger said the the goal of the visit was more than promoting science for the SHS sophomores. She said it was to "help students visualize themselves at college."
She added, "This also gave them insight into what it would be like, and how to get there."
More like this story