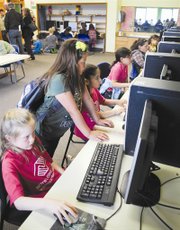 Since 1996, the Boys and Girls Club of Benton and Franklin Counties have impacted thousands of children.
Sunnyside could soon join their legacy of success.
On Wednesday, representatives of Sunnyside toured the facilities and programs of the Boys and Girls Clubs' main branch, music and arts center and Prosser branch as they consider bringing the program to Sunnyside.
Among the visitors were Curtis Campbell from the Sunnyside School District, City Councilmen Tom Gehlen and Don Vlieger, Planning Commissioner Jeff Barrom, City Manager Mark Gervasi, Parks and Recreation Chairperson Kari Zapata, Sunnyside Police Chief Ed Radder, Lisa Garcia from Sunnyside Community Hospital and Lisa Fairbairn from Sunnyside's Promise.
The tour began at the main branch in Pasco, where their president Greg Falk took them through the facility.
The Boys and Girls Club is more than just providing a place for kids to go during the day and after school, Falk told them.
"It's about making connections," he explained.
These connections between caring adults and volunteers are what keep students involved and out of trouble, he said.
Connections like those made by Bita Garcia, a staff member at the main branch. Falk explained that Garcia monitors and helps students check into the club, but she knows every single one of them.
The main branch manages and monitors 12 sites, from Finley to Prosser, but when they originally opened in 1996, they had 110 kids.
Falk says they now serve 3,000 children. Most the children involved in the program are elementary school aged children, but Falk says there is a teen center and programs in place to help teen parents and their infant children.
The programs offered at the Boys and Girls Club focus on prevention - keeping children away from gangs and drugs, Falk explained. The program is not equipped with the resources to intervene with children and teens who are already involved in those dangerous activities.
The purpose behind the program is also not to provide additional education, Falk said. He explained that the last place children want to go after school is to another school.
Instead, they provide programs and activities that can supplement and support their education, but does not enforce it.
"Children vote with their feet," he said.
He explained that if they don't like an activity, they get the opportunity to just get up and leave - to find something else to do.
At the main branch, children can sit in one room and talk, read or finish homework; in another room, they play pool, air hockey, foosball or Mario Kart on the Wii.
At a music and arts focused Boys and Girls Club in Kennewick, children get the opportunity to learn an instrument, create projects or simply play games and have fun.
Falk told the visitors the story of a fifth grade student showing a high school student how to play the guitar for high school credit.
The Boys and Girls Club in Prosser is a smaller operation, but has been a huge success. It even has a waiting list.
Ron McHenry, who manages the Prosser Boys and Girls Club branch, says that program would have been impossible to create without the devotion and commitment of community members and the support of the city and school district.
Money for the Boys and Girls Clubs is raised through membership fees and fundraising, but Falk was hesitant to put a price tag on how much money a Sunnyside branch might cost and McHenry agreed. It all depends on the program's size and activities.
The group returned to Sunnyside excited about the organization and eager to begin discussions and whether the city should bring the program here.