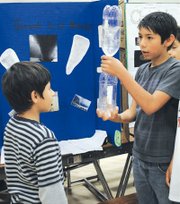 GRANDVIEW - Parents, teachers, students and judges strolled through rows of science projects last Tuesday at McClure Elementary School's fifth grade science fair.
Students from four classrooms, including fourth and fifth grade students from the school's gifted program, prepared their projects and presented their findings to curious browsers.
Among the presenters were Abraham Cena, Case Graf and Yuriel Sosa from Terry Dahlstrom's fifth grade class. These students decided to test the durability of popular batteries by running a small fan with them.
They discovered that the most expensive battery, Duracell, actually lasts the longest. Twenty-one hours, to be exact.
Then there was Obed Orozco and Ricardo Celestino, who decided to ask a very important question: Does slime move quicker over carpet, wood or tile?
The fifth graders created their special slime concoction (including ingredients like flour and Elmer's glue) and dripped down the three surfaces.
The result? On the first try, it took the slime 11 seconds to cross the carpet, 4 seconds to slide down the wood and only 1.5 seconds to traverse the tile.
Another student cleaned pennies with soda to discover that Coca Cola cleans them fastest, while a team of students showed the impact of melting ice caps by melting a block of ice in a tub of water.
This is the fifth year for this science fair organized by McClure fifth grade teacher Richard Peacock.
There are no official winners at the science fair, but several judges were brought in to grade the students' projects. Among them were three people with PhD's who either worked at the WSU Research and Extension Center in Prosser, or had retired from there.
The students stood by their projects, waiting for the judges to come around, showing their research to curious onlookers and answering plenty of questions - another successful event for science and McClure Elementary School.